Tia Sharp hunt: Police seal off grandmother's home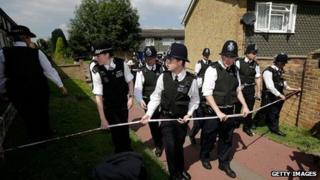 Police investigating the disappearance of schoolgirl Tia Sharp have sealed off an area around her grandmother's home in south London.
Tia, 12, vanished after leaving the property in New Addington, Croydon, to go shopping a week ago.
About 20 uniformed officers arrived at Christine Sharp's house at lunchtime and cordoned off an alleyway as part of the planned forensic search.
Det Ch Insp Nick Scola said the search "will continue for a day or two".
A police helicopter was seen hovering overhead while investigators searched the property.
'Sudden' action
Earlier, officers with a police dog spent about 30 minutes in the house.
Mrs Sharp was driven away by police and bags of evidence were removed. She was not arrested.
Members of the public were previously able to walk past the terraced house but access has now been restricted.
The police cordon now prevents anyone from getting within about 100 yards of the home.
Mr Scola, who is leading the investigation, said: "We're here today to carry out a pre-arranged forensic search of the house.
"I've just liaised with the scene of crime manager and the search will continue for a day or two at least."
But BBC News Correspondent Ben Ando, who was at the scene, said: "It was quite sudden the way the police sealed this area off.
"In effect the entire block of about a dozen homes has been completely sealed off."
'Finger pointing'
Speaking earlier on Friday, Mrs Sharp, 46, said: "I don't know where she [Tia] has gone. I don't know how she's gone. She's not staying away by choice - I know this.
"My only message to Tia is that I love her."
Mrs Sharp's partner Stuart Hazell, 37, was believed to be the last person to see Tia and has since been questioned by police as a witness.
Mrs Sharp said her partner had "had it hard".
"He knows the finger has been pointed at him. He knows this and it's been really hard for him."
Meanwhile police are due to hand out flyers on the tram and bus routes that serve New Addington in south London.
Commander Christine Jones from the Metropolitan Police said an intense search was continuing and thanked the public for their support.
"Obviously we are exploiting every piece of information coming in and all we would say is if you have any information please, please call us.
"We will continue to search relentlessly for her."
Speaking on Thursday, Tia's uncle David Sharp said: "Everyone is trying to do their best by sticking together and keeping everything tight and supporting each other.
"I don't know what has happened to Tia. I don't want anyone to think the worst has happened to Tia."
In a message to her, he said: "Come home. There is no trouble. Walk through that door."