Tia Sharp police arrest Stuart Hazell on suspicion of murder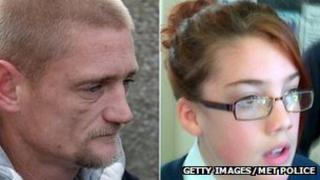 The partner of Tia Sharp's grandmother has been arrested on suspicion of murdering the 12-year-old, the Metropolitan Police said.
Police were searching for Stuart Hazell, 37, after a body was discovered earlier at Christine Sharp's house in New Addington, Croydon.
Tia, 12, was reported missing last Friday sparking a huge search effort.
Mr Hazell was arrested in Merton, south London, at 20:25 BST after he was identified by a member of the public.
A murder investigation was launched after police searching for Tia found a body.
They are yet to formally identify the body but the family has been informed.
'Addington's Angel'
Earlier, Met Commander Neil Basu said there had been four searches at the property in the past week, two with sniffer dogs, including a search of the girl's bedroom.
Tia's uncle David Sharp, her grandmother and Mr Hazell had all made appeals to find the schoolgirl.
She was said to have gone missing after leaving the house for the Whitgift shopping centre in Croydon at about midday last Friday to buy flip-flops.
Since the news of the body's discovery, several people have laid tributes for the girl near a garage close to her grandmother's house, which still has a cordon in place on the approach to it.
In tributes the schoolgirl was described as "Addington's Angel" while another message on a flower bouquet said "Justice will be served".
Another message from several people who joined in the search for Tia read: "We searched so hard to find you."
Up to 80 police officers have been involved in the search for Tia and more than 800 hours of CCTV footage has been gathered from the local area including trams and buses.
Earlier this week about 200 people helped police search an area of woodland known as Birchwood not far from the house.
Mr Basu said: "Our priority is to support the family of Tia at this distressing time and identify the body, which has been discovered, as quickly as possible.
"When Tia was first reported missing, officers searched her bedroom, as is normal practice in a missing persons inquiry.
"A further search of the house took place in the early hours of Sunday morning by a specialist team.
"This was then followed by another search of the house by specialist dogs on Wednesday lunchtime.
"What we now need to establish is how long the body had been in the place where it was found."
The body was discovered within hours of the area near the house being cordoned off at about noon on Friday.
Croydon Central MP Gavin Barwell praised the support offered to the family.
He added: "The police have yet to formally confirm that the body is Tia's, yet this devastating development will come as a huge blow to her family and the community in New Addington, all of whom have worked tirelessly to try to find her over the past week."