Police make 250 Olympic Games arrests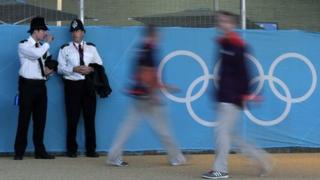 There have been almost 250 arrests made by police working on Olympics security.
The arrests have been made for a total of 29 different alleged offences ranging from assault, robbery and a bomb hoax to swimming in the Thames.
The most common offence was ticket touting, for which 139 people have been arrested.
The new figures do not include the 182 arrests made during a mass bike ride on the night of the opening ceremony.
The Olympic Games have been one of the biggest security operations in the UK's history.
Thousands of armed forces personnel stepped in to help police after private firm G4S was unable to deliver the security guards it had promised.
The new statistics cover the period 21 July to 10 August, and are the most recent figures available.
A total of seven arrests has been made inside Olympic venues, including a man who was detained after allegedly throwing a bottle on to the running track before the mens' 100m sprint final began.
A Metropolitan Police spokeswoman said: "These arrests are by officers working across London who are part of the policing operation for the Olympic Games.
"This includes officers who are working in the footprint of the policing plan - the park, river and central zones that include the Olympic venues.
"It also includes arrests made by officers who are part of the operation but have been deployed in boroughs to support day-to-day policing."
The most serious suspected offences included possession of a firearm (1), possession of an offensive weapon (2), robbery (5), and assault (16).
The exact number of people arrested during the Olympic operation is 242.
The Games draw to a close later on Sunday with a spectacular concert of rock and pop music promised by organisers.