Lewisham flat fire: Police treat cause as suspicious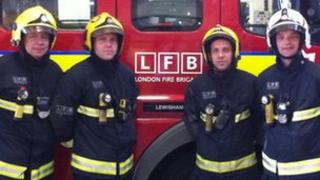 A fire in a block of flats in south-east London which saw firefighters save seven people is being treated as suspicious by the police.
Five women, a child and a baby were rescued from the fire in Campshill Road, Lewisham. An additional 31 people were evacuated from the building.
The blaze broke out at 02:30 BST and was under control two hours later.
Det Sgt Graham Rickard said: "This was a very serious incident which could have resulted in multiple fatalities."
He added: "The fire is being treated as suspicious and we are currently pursuing all lines of inquiry in order to establish how it started."
Earlier, fire station manager Ziggy Hurrion praised his staff's "quick thinking actions", calling them "heroes".
Firefighters used a hydraulic platform and ladders to rescue three women, the child and baby from the flats, while two women were saved from the ground floor by firefighters using breathing apparatus.
Mr Hurrion said: "Both our control officers, who handled the 999 calls from those inside the flats, and the brave actions of our firefighters, ensured that five women and two children were safely rescued from the blaze."
Nine people were taken to hospital, however nobody was thought to be seriously injured.
Parts of the ground, first, second and third floors of the building were damaged by fire.