London Mayor Boris Johnson: PM must stop 'pussyfooting'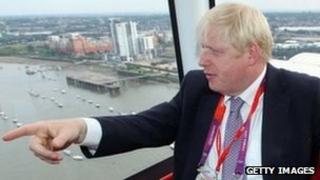 Boris Johnson has urged Prime Minister David Cameron to stop "pussyfooting around" and invest in major infrastructure projects in London.
The Mayor of London told the Evening Standard that money should be spent on projects such as Crossrail 2 and extra river crossings.
He said he still supported plans for an airport on an artificial island - dubbed "Boris Island" - in the Thames.
A Number 10 spokesman said Mr Cameron had declined to comment.
Mr Johnson said: "This is the time to be ambitious about London and what it can do for Britain.
"One of the ways of doing that would be to commit to further infrastructure — Crossrail 2, more river crossings, a massive house building programme for the city.
"The government needs to stop pussyfooting around."
The mayor said Chancellor of the Exchequer George Osborne was "actually very much up for big ideas like this".
But he said Mr Cameron was not convinced, blaming the "institutional inertia of the government".
Mr Johnson dismissed the suggestion he could run for a seat in Parliament while serving as mayor.
But he refused to rule out standing as an MP after his term in City Hall came to an end.
Recent weeks have shown a boost in popularity for the mayor during the Olympics, prompting suggestions he may have ambitions of becoming prime minister.