Residents demand action over 'shaking' homes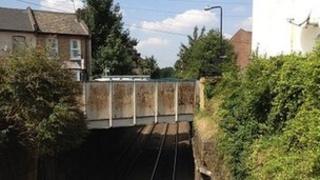 Residents living near a railway line in east London say they have to put up with their houses being shaken by passing trains.
Saeed Diwan, who has lived in Walthamstow for more than 40 years, has put concrete around his property and built additional walls in an attempt to absorb the vibrations caused by heavy goods traffic.
June Cohen-Brown and Rachel Wedderburn both have cracks that run across the floors, walls and ceilings in their properties.
Other residents have complained about pictures moving and falling while some others said they can feel themselves shaking in bed when freight trains pass in the night.
The houses are located near the Gospel Oak to Barking Line, also locally known as the Goblin Line, which operates as part of the London Overground Network.
The line carries a mixture of passenger services and freight traffic.
'Don't want money'
Lara Pawson, who has been leading a campaign to get Network Rail to acknowledge the problem, said residents have been ignored for almost two years after requesting to have vibrations monitored or goods trains stopped in the night.
She said: "We moved here knowing that the railway track was there and very happy to be by trains.
"We are not car users. We are very much in favour of railways."
After failing to get a response, campaigners contacted their MP, Stella Creasey, who requested Network Rail to respond to parliamentary questions about the vibrations.
Network Rail spokesman PJ Taylor told Radio 4's You and Yours programme: "We have fallen short in our conversations with local residents.
"We have not done a good enough job with communicating with them."
He also said that freight trains on the railway line had increased from 12 to 16 a day.
"Every freight train takes 60 to 70 lorries off the road, which means lots less road congestion and less CO2 emissions," he added.
Glenn Wallis has worked as a signalman on the line for more than 10 years.
He said there was more freight traffic on the line, including cars for export, cement and other building aggregates.
Network Rail has now also agreed to monitor the vibrations in five homes, but it is unclear how they will do that or for how long.
Campaigners feel the monitoring should be done independently.
Network Rail said it had paid out for similar claims in the past and they would not rule out paying compensation again after an investigation.
But Ms Pawson stressed: "I don't want money. I don't want compensation from Network Rail.
"I'm not even interested in why trains pass the house. I just want the house to stop shaking."
You can hear the full report and interview from the You & Yours programme here.
If you have been affected by increased vibrations from a nearby railway line that may be damaging your property please contact the You & Yours programme.