Islington bars face late-night drinking levy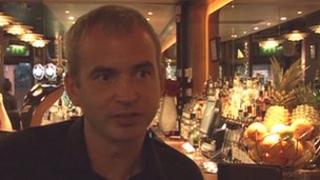 A council in north London plans to become one of the first to use a new law to charge a levy on bars and clubs selling alcohol after midnight.
Islington Council says it has a "very serious late-night drinking problem" with crime, disorder and mess on its streets.
Bar and club managers have complained that fees will unfairly increase costs.
"We're not in the business of trying to raise money taxing business," said Councillor Paul Convery.
'Particular problem'
The Police Reform and Social Responsibility Act 2011 allows a council to charge licensed premises open between midnight and 06:00 BST a levy, to help cover the cost of policing.
The amount charged per year will range from about £300 for a small bar to £4,440 for a large venue.
Mr Convery said this and several other proposals were being considered to tackle areas in Islington where residents fear to go.
He said: "We've got a lot of crime and disorder, a lot of mess on our streets, we've got more late-night establishments per head of population than almost anywhere else in London and we just think we have to find ways of meeting the costs."
He said many bars and clubs with late licences had developed in Clerkenwell, Angel, Highbury Corner, and Finsbury Park.
The 2003 Licensing Act which took effect in 2005 presented the opportunity for 24-hour opening.
'Bars are struggling'
Mr Convery said: "We've got a particular problem in Islington because we have licensed over the last 10 years a very large number of places of entertainment.
"We went through a phase where we thought, as a borough, that the late night economy was a good thing.
"We're now coming to the conclusion that it's got some very high costs and real problems associated with it. We think some of those costs have to be borne by business."
But bar owners and managers have criticised the proposal.
Stephen Mimnagh, manager of Anam cocktail bar, said: "Everyone will pass the cost on to their customers. Someone's got to pay for it. Bars are struggling.
"Islington is a great place to come out. It's a party venue."
He said he thought there were "only 10 bars in Islington" open after 3 or 4am, and that the move was heavy handed.
Marc Rust, operations director of Grand Union Group said independent businesses would suffer the most.
A consultation will take place before a decision is taken.