Prince Harry's friend 'feared being stabbed' in robbery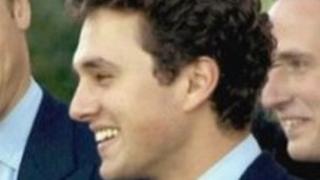 A friend of Prince Harry feared he was going to be stabbed when he was mugged by two men, a court has heard.
Thomas van Straubenzee was robbed walking home from work in south-west London, Kingston Crown Court was told.
Winful Taylor, 27, of Stockwell Park Road, Stockwell, south London, denies robbing Mr van Straubenzee of two mobile phones, his wallet and its contents on 30 November last year.
The other suspect's identity is not known, said prosecutor Daniel Robinson.
Mr Robinson said Mr van Straubenzee, 29, was robbed just after 19:15 GMT in Albert Bridge Road on his way from Chelsea, on the west side of Battersea Park.
'Mouth covered'
He told the jury a second man ran at Mr van Straubenzee, knocking him over, "in something like a rugby tackle".
He continued: "One of the robbers sat on the lower half of his body, the other robber put his knee on his neck and his mouth was covered by one of their hands.
"One of them started to go through his pockets and the robbers told him that they had a knife.
"They took his phone off him and Mr van Straubenzee handed over the rest of his property, because he thought he was going to be stabbed.
"A passer-by came to his assistance and police were called at 7.18pm."
In a statement read to the jury, Mr van Straubenzee said he was on the phone to a friend at the time and had not been paying attention to anyone around him.
Arrested at hostel
He was able to give police the IMEI number of his red Nokia phone, which identifies the handset, Mr Robinson said.
Two days after the robbery, police arrested Mr Taylor at a hostel where he was living in Streatham, south London.
He had Mr van Straubenzee's red Nokia, Mr Robinson said.
Mr Taylor denied responsibility for the robbery, and said he bought the phone for £20 the previous day from a friend.