Royal Parks to charge for toilets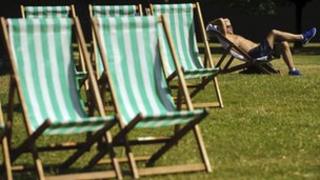 A charge is being proposed for the use of public toilets in some of London's most popular parks to cover a shortfall in funding.
A 20p charge would be paid in the public spaces managed by Royal Parks including Hyde Park, Regent's Park, Richmond Park and Kensington Gardens.
The organisation says its government grant has decreased by about £11m over 10 years.
Playground and disabled toilets would remain free.
'Modest charge'
Neil Coyte, head of communications for Royal Parks, said: "The introduction of this charge does not mean we will be making profit.
"The choice was to either close the toilets or maintain them through the introduction of a modest charge."
Royal Parks received £28.08m in government funding in 2003-4 but £16.6m for the period 2012 to 2013.
In 2010-11 the organisation spent about £1.1m cleaning toilets.
There are 29 toilet blocks across the eight Royal Parks used by an estimated eight million people each year.
The spokesman added: "We are currently tendering for a supplier to refurbish, maintain and clean the toilets, and work with us to improve them where possible."
He said the charge would be phased in from March 2013.