Man guilty of mugging Prince Harry's friend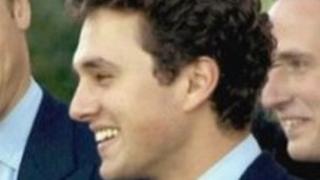 A man has been jailed for two years for mugging a friend of Prince Harry while the pair were talking on the phone.
Thomas van Straubenzee was robbed as he walked home from work in south-west London on 30 November.
Winful Taylor, 27, of Stockwell, south London, had denied robbing him of two mobile phones and his wallet.
In mitigation his lawyer said that before the last offence her client had not committed a crime punishable by prison since 2007.
But Judge Southwell said: "People are entitled to make their way home from work in dark or daylight without being attacked and robbed."
Previous convictions
Jurors heard the accused had pleaded guilty to two robberies carried out in 2006.
Taylor was also convicted earlier this year of an attempted robbery in Hyde Park - five weeks before Mr van Straubenzee was mugged - for which he is serving an 18-month prison sentence.
The two year sentence will now effectively take precedence over the previous term.
Taylor also has convictions for assautling a police officer and possession of cannabis.
After the mugging Prince Harry drove to south London to come to his friend's aid.
Wallet not recovered
The pair first met at Ludgrove Prep School.
Judge Richard Southwell had told jurors to ignore press reports about Mr van Straubenzee's relationship with the prince.
He said: "It is public knowledge but it does not form any part of the evidence you have to consider in this case."
Two days after the robbery, police found Taylor with two mobile phones. One was a Samsung and one was Mr van Straubenzee's red Nokia.
His wallet and BlackBerry have not been recovered.
Taylor gave no evidence in his trial and no defence witnesses were called.
He claimed to have bought Mr van Straubenzee's phone from a friend.
The victim is also a close friend of Prince William.