Reduced police numbers for Paralympics revealed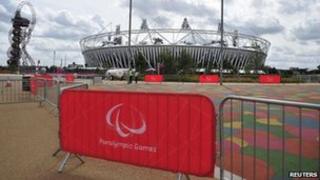 The number of officers policing the Paralympic Games will be reduced by more than a third compared to the Olympics, it has been revealed.
Scotland Yard said up to 6,000 officers would be providing security for next week's Games whereas more than 10,000 covered the Olympics.
Assistant Commissioner Chris Allison said: "We're doing exactly the same but there are less venues to cover."
The Paralympics will be held from 29 August until 9 September.
Mr Allison, co-ordinator for Paralympic security, said: "There aren't the central London venues.
"For the Paralympics there is far more focus on the Olympic Park, ExCeL and North Greenwich Arena.
"So, the stuff over towards east London therefore needs less officers to provide coverage but we'll still be doing exactly the same and dealing with exactly the same risks as we were for the Olympic Games."
More than 2.3 million of 2.5 million tickets for the Games have been sold.
Ticket sales have outstripped any previous Paralympics, with the International Paralympic Committee hoping the Games will enjoy the first sell-out in its 52-year history.