Olympics lettings demand in London 'never materialised'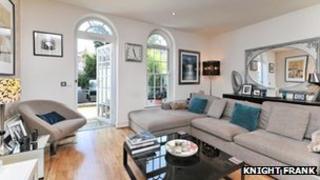 The summer of 2012 will be remembered as the year London welcomed the world to the Olympic and Paralympic Games, but for many estate agents it would be the "hype that never materialised".
Most estate agents in London "jumped" on the short-term lettings bandwagon, Peter Savage from the Association of Residential Letting Agents (ARLA) said.
But many were left with expensive empty properties gracing their websites long after the Games were over.
Mr Savage, who represents the City, Docklands and Stratford, said it was difficult to quantify the extent of the loss suffered due to the number of unregulated agencies, but cited ARLA member Knight Frank as an example.
The company's Canary Wharf branch advertised 60 properties, several at the high-end of the market, of which only 29 were rented during the Olympics.
Mr Savage said: "The consensus was that there was a huge oversupply.
"Many [agents] were not even aware of what was involved in short-term lets as some unregulated agents wouldn't bother with details like permission from the lender [if the landlord has a mortgage], the freeholder or the building society and the council.
"Another factor is people staying there expect serviced apartments. Any short-term gain would be outweighed by providing the costs of the short-term market and the later void periods - which is happening now.
"The demand that was expected never materialised."
'Big miscalculation'
An industry source said as many as 2,000 properties on the market were not taken up.
This sense of "over-hype" is corroborated by Joanna Doniger, who has been in the short-term lettings market for the past 20 years, focussing on visitors to Wimbledon.
One would think her firm Accommodate London has had a good run with 250 properties let around Stratford and Victoria Park, which range from £30,000 per week for a 10-bed house with a swimming pool in north London to £840 per week for a one-bed flat in Stratford.
And another 20 flats have been booked for the Paralympics.
But 270 is slim pickings when about 500 landlords had offered their homes.
Ms Doniger said: "There were a lot of hotel rooms available and if visitors were coming for the Games they will be here for a few days.
"For an apartment, it has to be rented for at least a week or 10 days to make it worthwhile. It's not worth renting for three days.
"I think there was a big miscalculation by several estate agents as to just how high the demand was going to be for up-scale private accommodation and as to who would rent."
Most of the tenants were from foreign media companies, security firms and some families of athletes, including those of gold-medal winning US athlete Allyson Felix and tennis stars Serena and Venus Williams.
Ms Doniger said they did their own research to "ignore the hype", but it was difficult at times to convince interested homeowners.
"It was galling when owners told us that one of the big estate agents had priced their rentals far higher than AccommodateLondon.com and showed us the door."
Demands reversed post-Games
Another estate agent based in east London, who did not want to be named, said his agency was "inundated with over 100 rentals from owners but only two were let".
"The biggest problem was landlords not willing to accept realistic prices", he said, adding people from Essex and Hertfordshire had contacted them.
"We had a big influx of landlords from July. But we had realised from the end of March that this wasn't going to work", he said, citing logistical problems like managing the properties and carrying out checks on clients.
Mr Savage, who is also the director of Landmark Estates, said he himself talked clients out of offers of rents which were "10 times the normal weekly rate".
Another issue the ARLA noticed was availability of rental properties drying up before the Games.
Mr Savage said: "Up until late May-June there was a shortage of rental properties, which drove up rents to tenants.
"Myself and other regulated agents realised that this was partly caused by landlords believing they could capitalise on the Olympic effect.
"Post-Olympics we have noticed that our stock levels have risen dramatically and within a few months the market has completely turned from under supply to over supply".
Housing charity Shelter also said they had anecdotal evidence of tenants being evicted ahead of the Games and last year six London councils warned landlords they could face fines for doing so.
One of those councils was the Olympic borough of Tower Hamlets. A spokesman told the BBC they have received no reports of illegal evictions but they are prepared to take action.
A spokesperson for London Mayor Boris Johnson did not comment on the private rental market but reiterated opportunities the Games brought.
"Although in some places the picture was mixed, overall there has been a significant upswing with twice as many international visitors staying in London hotels than in Beijing and Sydney and the spend in the capital's restaurants up 20% on a year ago," she said.
The period was memorable for Jane Belshaw, who became a special guardian to foster children Connor and Haydon, and was able to let her two-bed apartment in Limehouse while on holiday.
The flat was let by Ms Doniger's firm for 22 days during the Olympics and is booked for 16 days during the Paralympics.
Ms Belshaw said: "We used the money to redecorate the flat and we used the rest to travel. It's been perfect."