Private firms may bid for South London Healthcare Trust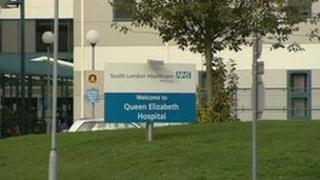 Private healthcare providers have been asked if they want to run South London Healthcare NHS Trust.
In July the government announced the trust, which had run up debts of more than £150m since being created in 2009, would be put into administration.
Administrator Matthew Kershaw wants to be "aware of potential interest" from both private healthcare trusts and NHS organisations, his office has said.
The trust serves one million people in Bexley, Bromley and Greenwich.
The trust was created by merging three hospitals - the Princess Royal in Orpington, Queen Mary's in Sidcup and the Queen Elizabeth in Woolwich - and is the first NHS trust to be put into administration.
Health Secretary Andrew Lansley said the decision was taken because past efforts to put it on a "sustainable path" had not succeeded.
'Organisational change'
Chris Remington, the Unison union's head of health for the London region, said it would be a "sad day for patients and staff" if South London Healthcare Trust fell into private hands.
The trust has some of the longest waiting times for operations and longer-than-average waits in accident and emergency. However, it has low infection and death rates.
The administrator has to publish a draft report on the problems faced by the trust and possible solutions by October.
A spokesman from Mr Kershaw's office said: "It is possible that there will be recommendations for organisational change as part of this.
"Whilst one solution will be to re-establish the South London Healthcare NHS Trust board, other organisational options must be considered.
'Drowning in PFI debt'
"To support this, it is essential that the trust special administrator is aware of potential interest from NHS, independent and third sector parties in providing or managing NHS services in south east London to help develop and deliver a sustainable solution for the people of south east London.
"This is not a signal that decisions have been taken about the future of services or organisational solutions, rather it is an exercise to assess what interest there may be if new organisational forms are required."
Mr Remington said the trust was in administration because it was "drowning in a sea of Private Finance Initiative debt fuelled by the high cost of servicing repayments to private companies".
He said the best option for local people was for the trust to stay together and be run by the NHS.