Three bailed in street cleaner murder investigation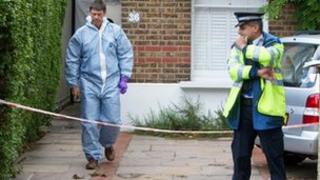 Two men and a woman arrested following the killing of a west London street cleaner have been bailed by police.
On Thursday Piotr Mikiewicz, 40, died of a stab wound he sustained trying to stop a burglar in Rylett Road, Shepherd's Bush, the day before.
The three bailed suspects were arrested on Thursday on suspicion of assisting an offender.
Two women arrested for the same offence remain in custody. A man aged 30 is being held on suspicion of murder.
A post-mortem examination was due to be held on Friday, said police.
Mr Mikiewicz, a recently married Polish man working for Serco, was formally identified by the Metropolitan Police.
Serco director Mike Boult, said: "He had a strong sense of what was right and wrong.
"He wasn't just a road sweeper, he was a part of the community he worked within genuinely caring about the residents and his 'beat'."