'Who's the Daadi' traces South Asian ancestry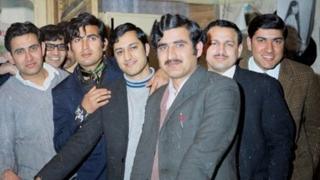 A new social ancestry website created by two Londoners is helping South Asians reconnect with their past.
"My grandmother got Alzheimer's and so all the great stories that she used to tell me… they just disappeared.
"And then when I tried to trace back my history I realised that because my family is South Asian we don't have records of births, deaths and marriages," said Daadi's co-creator, Saima Mir.
This was the inspiration for a new website created by two Londoners to attempt the difficult job of tracing the ancestry of South Asians and those of South Asian heritage.
Who's the Daadi (a play on the word Dadi, used by South Asians to describe their paternal grandmother) is described as a "social ancestry site" and will use pictures, names, significant dates and places to create family trees using a database of information.
"I was looking through old photographs of my dad, in his really dapper suits in different parts of Karachi, and realised that so many of my friends have images like this. I came up with the idea of a Wiki database to bring them all together," said Mir, from Tooting in South London.
Mir co-created Daadi with Alex Street, who was behind the technology used in building the website. The pair met using social media and the site has been inspired by relationships created, and re-established, on sites like Facebook and Twitter.
Family tree
"We've essentially built our own version of Facebook but for the express purpose of social ancestry rather than social networking," said Street.
"All of the family data on the site is submitted by our users as opposed to being from census data. If you're a second, third or fourth generation immigrant, the chances are you don't have census data to build a family tree."
The aim is to connect families and friends that have been spread all over the globe, perhaps initially separated by events such as the partition of India in 1947 and then by emigration all over the world.
Saima Mir is one of millions of families originally from Pakistan, India and Bangladesh who have settled in places like London.
"Fifty per-cent of our traffic is actually coming from Karachi and Delhi, 50% is coming from here [the UK]. We've also had interest from the Wall Street Journal, the New York Times - because people from India, Pakistan and Bangladesh have moved all over the world. Eventually we're hoping that absolutely anyone who has any links to South Asia will be able to access the site."
The website will take input to really develop but it is already attracting interest from South Asia and parts of the world with a significant South Asian diaspora.
Once there are enough participants it will become a searchable database.
A user will put in their surname, and then perhaps a particular place in Pakistan, ideally as detailed as a city street name, and the aim is that it will give you other people who may have your surname, or lived on the same street on a particular date. Mir says that at its centre, the site is about connecting:
"Partition was only 65 years ago and our grandparents lived through this and were ripped apart from people they loved."
"We actually may be living just streets away from people who come from the same village that our families did and we just don't know that because there's just no way of connecting with them.
"We hope that Daadi will be able to make those links a lot stronger."