Annual disability sport festival for Olympic Park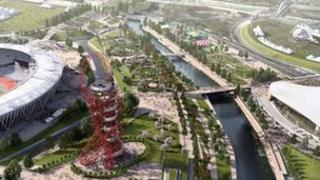 An annual festival of disability sport is to be staged at the Olympic Park as part of a £2m package of future Paralympic plans at the east London venue.
It is to be linked to a programme of training at sporting clubs in surrounding boroughs, said the London Legacy Development Corporation (LLDC).
The site will reopen from July 2013.
Sport England figures show east London has a lower uptake in disabled sports than the rest of London.
The park - to be renamed the Queen Elizabeth Olympic Park - will reopen in phases after £292m of investment.
The LLDC said tens of thousands of people will benefit from its Paralympic Legacy Programme.
'Opportunities for everyone'
The programme will help to create new homes, public spaces and sporting venues that are accessible, it said.
The LLDC plans to introduce a range of sports for disabled people including wheelchair rugby, boccia, wheelchair basketball and Goalball in the Copper Box.
Figures from government agency Sport England show that of those living with a disability in central London 22.1% participate in sport once a week; in north London 18.4%; south London 24.4% and west London 21.2%.
But in east London, including Stratford and the Paralympic boroughs, the figure is the lowest at 16.4%.
International Paralympic Committee chief executive Xavier Gonzalez said: "By working with the operator of the venues on the Park now, [the LLDC] is ensuring that paralympic sports will continue to be at the heart of the sporting legacy."
There is also a 5% job target by the LLDC's contractors to help disabled people to get jobs on the park.
Daniel Moylan, Chairman of the London Legacy Development Corporation, said thousands of people will be inspired to get involved in Queen Elizabeth Olympic Park and it was important to make sure there were "opportunities for everyone".
The legacy programme will also include the recruitment of Paralympians and other disabled people to be community champions, work with an east London firm to provide specially adapted bikes for young people with physical and learning disabilities, a pool lift at the Aquatics Centre and a gym for disabled athletes to be added to the Copper Box.