St Helier Hospital cuts: Fun day protest against plans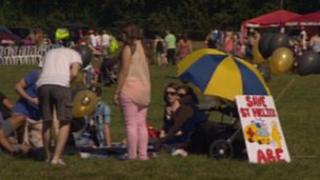 Protesters are holding a fun day to campaign against plans to close accident and emergency and maternity wards at a south-west London hospital.
The demonstration against the plans for St Helier Hospital has been arranged by residents and Sutton Council.
Organiser Karen Russell said closing "its most vital departments is crazy and it has made people really angry".
NHS South West London said no decision would be made until local people had been consulted.
The Better Services, Better Value (BSBV) panel, which is made up of local people, GPs and managers, is looking at ways to improve efficiency.
Ideas being looked at include closing specialist children's wards and replacing them with a centre for planned surgery.
St George's, Croydon and Kingston hospitals and other nearby hospitals would then take displaced St Helier patients.
BSBV said across all four hospitals, costs need to be reduced by £321m by 2016-17, a saving of 29%.
'Damage to hospital'
The fun day on the green outside the hospital has activities including bouncy castles, skateboard displays and face painting.
Speeches against the cuts have also been taking place.
Ms Russell, a local mother who started the Save St Helier Facebook group, said the fun day was a "great day out with a real purpose".
"Everyone knows we need St Helier Hospital," she said.
"This is our chance to come together and show we won't put up with any damage to our hospital," she added.
Paul Burstow, Liberal Democrat MP for Sutton and Cheam, who lost his job as a health minister this week, said he would now devote more time to campaign to save the services.
Sutton Council leader and St Helier campaigner Ruth Dombey said: "First and foremost I want everyone to come along and have a great day out.
"But while you're there take the time to find out what they plan to do to our hospital and then sign the petition and join the fight."
Dr David Finch, local GP and joint medical director for BSBV, said: "We are still some way from a decision on the future shape of health services in south-west London."
He added: "Any recommendations have to be agreed by the local NHS and then would go out to full public consultation later in the year.
"Everyone will have the opportunity to have their say and no decision will be taken until local people have been consulted."