'Bottled bleach' given to child in Eltham High Street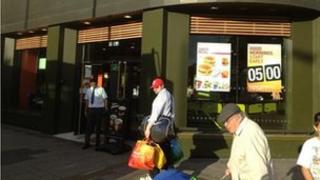 A child is believed to have been given bottled "bleach" by a woman in a McDonalds in south-east London.
Police said a white woman in her 50s gave a child in a pushchair a bottle believed to contain bleach in the restaurant in Eltham High Street.
The 11-month-old boy vomited after drinking the liquid on Thursday afternoon. He was taken to hospital, but police said he was now stable.
The woman has been described by police as heavily built with grey hair.
Forensic tests
She was wearing black trousers, black trainers, a long multi-coloured top and a black jacket with white chevron type markings. The woman was carrying a maroon bag.
There have been no arrests.
A spokeswoman for London Ambulance Service said: "Our staff treated a baby boy who had been taken unwell, who was taken to Queen Elizabeth Hospital, Woolwich."
The 11-month-old boy was in the restaurant with his mother and grandmother.
Officers are carrying out forensic tests on the bottle to determine what the liquid is. They are also reviewing CCTV footage.
BBC London reporter Marc Ashdown, who is at the scene, tweeted: "McDonalds in Eltham where the bleach incident happened. No police. Appears back to normal."