Hundreds march in Ealing against A&E closures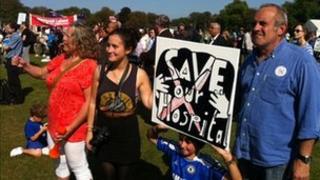 Up to 1,000 people have marched through the capital to protest against plans to shut four Accident and Emergency (A&E) units in north-west London.
MPs and councillors joined two marches, beginning from Southall Park and Acton Park, converging in Ealing Common.
The A&E departments at risk are at Charing Cross, Ealing, Hammersmith and Central Middlesex hospitals.
The NHS believes bigger hospitals would improve patient care and asked people to take part in the consultation.
Labour MPs Steve Pound and Virendra Sharma and Julian Bell, who is the leader of Ealing Council, joined in the march at Southall Park.
Mr Pound, MP for Ealing North, said: "It's quite frankly a matter of life and death.
"It's not a matter of lifestyle choice, it's not a matter of preference or some sort of consumer choice 'We go to this hospital or that hospital'. It's no hospital or this hospital."
'Need people power'
Mr Sharma, who represents Ealing Southall, said: "The threat of Ealing Hospital (A&E) closure is a threat to the local people, people's access to the services and the threat to their lives. That's why I am supporting the march today".
Mr Bell said: "We need people power to stop these proposals.
"There are theoretical arguments about having larger specialist centres but given the growing population that we have got in west London I don't think it makes sense to cut four out of nine A&Es."
Previously health bosses have said there would be a £332m gap to plug by 2014/15 and NHS North West London said there was "very good evidence" that centralising services onto fewer sites would mean better outcomes.
On the demonstration, a spokesman for NHS North West London said: "We welcome public engagement in our consultation and it is good to see so many people caring about improving the quality of local health services across North West London, which is what our programme is all about.
"We would encourage all those taking part today to fill in the consultation form as that will be the most effective way of making their views known."