Olympics canal boat firm goes into administration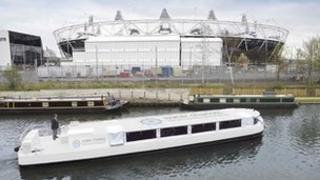 A firm which offered canal boat transfers to the Olympic Park is to go into administration after £2.5m losses, the company has said.
Water Chariots began by charging £95 for adults and £50 for children for the journey to the park from either Tottenham Hale or Limehouse Marina.
The "low take up" led to prices being cut to £20, but the service only ran up to the first week of the Paralympics.
No investor "received a single penny of return or income", the company said.
Water Chariots promised a luxury champagne service for £95 on its 29 boats and passengers would not have to queue to get into the Park.
But passengers had to disembark and walk about a mile after barriers were placed across the canal for security reasons, BBC London was told.
'Absolutely empty promises'
The firm ran a 70-minute service from Tottenham Hale, north London, and a 40-minute service from Limehouse, east London, for 17 days during the Olympics.
The Tottenham Hale service was abandoned after the Olympics and only the Limehouse service ran until the first week of the Paralympics.
The company was given a 15-year licence to operate canal boats in the area based on its legacy plans to run self-hire vessels and a private charter service.
Water Chariots had anticipated "significant public transport disruption" and the "novelty value" of the service would drive demand.
In a statement, the firm said: "The directors of Old Ford Lock River Services Limited (trading as Water Chariots) have applied to place OFLRS into administration following the failure of its Olympic and Paralympic canal boat service.
"The project failed due to materially lower than anticipated revenues and take up for the service, set against a high fixed-cost base.
"The company had been criticised for high prices, but the level of investment and cost base necessitated a high ticket price.
"The company subsequently tested the market at lower prices, but the take-up continued to be poor.
"The company was able to trade through the Olympic Games and into the first week of the Paralympics, but eventually determined itself unable to carry on further without the additional support of its investors who had already invested considerably more than they were committed to.
"No director or investor has received a single penny of return or income from this venture."
The company said some of its 100 staff were still to be paid.
Tim Duggan, who was a captain, said the firm owes him more than £800.
He had hoped the employment would continue after the Games given the legacy plans.
He said: "Just absolutely empty promises. At the end of the day we are out of pocket.
"It would be nice to have had that 15 years that they offered."