Heathrow expansion referendum call by Richmond Council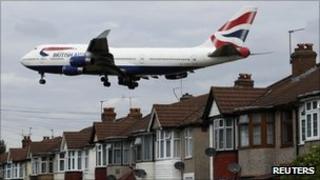 People in Richmond, south-west London, are to have their say on Heathrow Airport expansion in a referendum-style vote, the council leader has said.
Lord True said the ballot, over plans including a controversial third runway, would be held by May 2013.
The move came as the council pledged to resist plans to expand the west London airport after the next election.
Last month the government said it remained opposed to a third runway amid calls from some Tory MPs for a rethink.
Both the Conservatives and Liberal Democrats ruled out a third runway at Heathrow in their 2010 general election manifestos and the coalition agreement continued this commitment.
'Deep regret'
However, business leaders and some Tory MPs argue that increased airport capacity is vital to dragging the UK out of recession.
Earlier this month, the government began a review of how the UK might expand its airport capacity in the South East.
The commission will consider evidence from all sides and make recommendations to the government, but no decision is due until after the next election, due in 2015.
London Mayor Boris Johnson, who favours building a new airport east of London, has called for the issue to be settled once and for all by ruling out a new runway beyond 2015.
Announcing the referendum-style ballot, Lord True said: "I deeply regret that the nightmare vision of Heathrow expansion that had been so wisely laid to rest by our coalition government has been resurrected.
"This time we must kill it off for good."
He said he hoped the ballot would allow the thousands of residents in the borough to vote 'no', "sending the strongest possible signal to those lobbying for the creation of a third runway and intensification of flights".
"In 2010 they were given hope of permanent relief from expansion - they trusted the word of those who gave that promise and it should not be broken," he said.
However, leader of the opposition Councillor Stephen Knight questioned whether the vote would be a good use of taxpayers' money.
A survey of residents in the borough carried out by the Lib Dems in 2008 showed that almost 90% of respondents were opposed to expansion and the third runway.
Mr Knight said: "If we were going to spend a lot of money re-surveying residents on the same issue, then we would need to know it was going to build on what we already know."