London riots: Charles and Camilla visit Croydon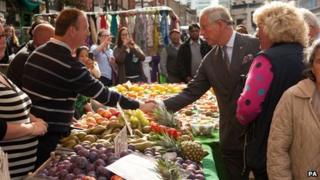 The Prince of Wales and Duchess of Cornwall have returned to south London to see the progress made since last summer's riots.
The royal couple last visited Croydon shortly after the riots in August 2011.
They met shopkeepers, residents, faith leaders, students and retail expert Mary Portas, who is spearheading regeneration of the Old Town.
Some of the most evocative images of the unrest were of historic furniture shop House of Reeves which burnt down.
'No meaning'
Croydon's Old Town was successfully selected as one of 12 Portas Pilot towns in England and £100,000 in government funding has been pledged.
The couple met Ms Portas and talked to shoppers and stall-holders during a walkabout of the 13th Century Surrey Street market.
The prince took particular interest in stalls selling locally-grown produce, while the duchess accepted a fiery bottle of chilli sauce from the Mad-Ass Chilli Sauce company.
The royal couple then visited Matthews Yard, a cafe and small business and community hub set up by 32-year-old entrepreneur Saif Bonar in April.
Local businesses and community projects have adopted the yard as their home, including Croydon Radio, and it aims to offer affordability for small firms starting up.
Mr Bonar said: "This area of Croydon suffered dreadfully during the riots, but a visit like this shows how far it has come in a short space of time.
"Local business organisations and the council must work together to keep the momentum going and show the world that this corner of south London is a great place to do business, not to mention live and work."
'Very complimentary'
Among those who showcased their business offerings to The couple were Mark Russell, 29, and Simon Dale, 30, of The Cronx Brewery.
After inviting The Prince of Wales to serve himself a pint, Mr Russell said: "He was very complimentary about it.
"He said he couldn't drink too much but he offered us his best wishes and hoped the pint wouldn't go to waste."
Mr Russell said theirs was the first brewery in Croydon for 58 years, producing three standard beers and with aims to expand their offering.
Earlier the royals were greeted by cheers, claps and the sounds of a local gospel choir at the Croydon Voluntary Action centre.
After shaking hands with local mayor Eddie Arram and council leader Mike Fisher, The prince and duchess spoke to colourfully dressed participants in this weekend's Festival of Cultures.
The couple saw how The Prince of Wales's charities, Business in the Community, the Prince's Foundation for Building Community and youth charity The Prince's Trust are helping.
The trust invested £2.5m in areas including Croydon and other cities in England.
The riots were sparked by the death of Mark Duggan, who was shot dead by police officers in Tottenham, north London.