Metropolitan Police launch drugs crackdown in London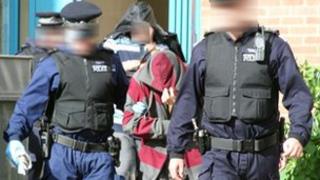 Police have arrested 351 people in a London-wide crackdown on illegal drugs.
More than 2,500 officers were involved in Operation Hawk, led by neighbourhood policing teams with support from specialist units, on Thursday.
During the raid officers seized 500g of heroin, 19 rocks of crack, ketamine, three guns and a BB gun.
The Metropolitan Police (Met) closed 37 cannabis factories and seized cannabis with an estimated street value of more than £2.6m.
About 800 police activities were carried out, including testing for drugs in pubs and clubs, and using sniffer dogs at transport hubs.