London Riots: Chauffeured looter jailed for eight years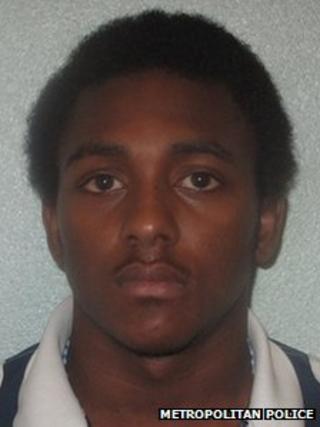 A man chauffeured around by a millionaire's daughter as he went on a looting spree during last year's riots has been jailed for eight years.
Blackfriars Crown Court said Alexander Elliott-Joahill, 19, was jailed for seven offences including attempted grievous bodily harm.
He was part of a group Laura Johnson drove around in her black Smart car as they looted shops.
They targeted south-east London on 8 August last year.
'Violent and reckless'
Elliott-Joahill from Baring Road, Lee, south-east London, threw bricks at a police car in Lewisham, south-east London, one of which hit a 40-year-old female officer in the head, said Scotland Yard.
Later that night, he was arrested alongside Laura Johnson, 20, from Orpington, Kent, and Christopher Edwards, 18, from Catford, south-east London.
He had entered guilty pleas to a number of offences in Lewisham including robbery of Favorite Fried Chicken in Catford Road and burglary of Blackheath Antiques in Lewisham High Street.
Blackfriars Crown Court said he was sentenced earlier for attempted grievous bodily harm, robbery, possession of an offensive weapon, criminal damage, violent disorder, three counts of burglary and three counts of handling stolen goods.
The police said he threw a brick at short range at a police car and left an officer with cuts to her face from glass.
She has now recovered and returned to duty.
Det Con Lisa Lathbury, said: "Elliott-Joahill and those arrested with him went out on the evening of 8 August with the intention of stealing from local stores and joining in the mass disorder and looting.
"We can only be thankful that his violent and reckless attack on an officer with a brick did not cause far more serious injury."
Miss Johnson was jailed for two years in May for burglary and handling stolen goods, while Edwards was given a year in a young offenders' institution.