Croydon pop up cancer shop opens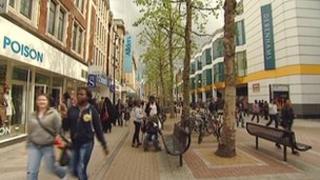 Croydon residents worried about cancer can visit a "pop up" shop over the next five weeks from Friday to talk with specialists.
The Get to Know Cancer store will be based in the Centrale Shopping Centre in North End.
If the scheme is successful it is hoped it will be rolled out to other London boroughs.
NHS London said early detection was important in treating cancer.
Cancer specialists and nurses from Croydon University Hospital, the Royal Marsden and Cancer Research UK and Macmillan charities will be on hand to talk about cancer and the importance of early diagnosis and spotting symptoms.
A second shop will open in Haringey in January.
NHS London medical director Dr Andy Mitchell said it was hoped the initiative will encourage people to speak up about any cancer fears they might have and get help.
A pan-London campaign featuring Londoners from across the city that have beaten cancer or are recovering will also be launched.