Arsenal's Andre Santos given driving ban for speeding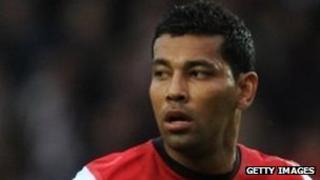 Arsenal footballer Andre Santos has been banned from driving for 12 months after admitting speeding at up to 145mph (233km/h) in a 70mph zone.
The Brazilian defender, 29, failed to stop as he was pursued by police in his Maserati supercar, Hendon Magistrates' Court heard.
He was arrested on 17 August, near the north London club's training ground in London Colney, Hertfordshire.
Santos pleaded guilty to driving without due care and attention.
The Premier League star evaded officers as he wove his black Maserati between lanes on the A1 and M25 in Hertfordshire in morning traffic before pulling over, the court heard.
'Loud music'
It was estimated he was travelling at speeds in the region of 135mph-145mph - double the road's limit.
In a statement given to police after his arrest, Santos said: "My music was on loud and I was not paying attention.
"I apologise to the police and for the trouble I've caused."
A second charge of dangerous driving was withdrawn by prosecutors.
Speaking after the hearing, Santos's solicitor David Slight said his client was "truly sorry and disappointed to let himself and Arsenal Football Club down".
Santos, who lives in Barnet, was ordered to pay £3,600 in fines and costs.