Mark Duggan shooting: Taxi driver 'cannot forget'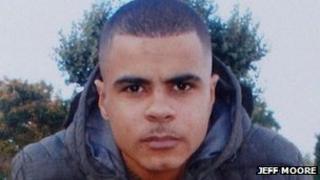 A taxi driver has told how his vehicle was stopped by police before Mark Duggan was shot in north London.
Giving evidence from behind a screen, the driver said Mr Duggan, 29, got out of the car before he was shot, adding he "cannot forget" the incident.
Earlier, a firearms officer said a gun was found five metres from where Mr Duggan fell in Tottenham last August.
At Snaresbrook Crown Court, Kevin Hutchinson-Foster, 30, denies giving Mr Duggan an illegal handgun.
Mr Duggan's shooting sparked unrest which turned into widespread rioting.
Mr Hutchinson-Foster is accused of handing over a gun to Mr Duggan 15 minutes before he was stopped by police in Ferry Lane on 4 August 2011.
He denies "selling or transferring a prohibited firearm" to Mr Duggan between 28 July and 5 August 2011.
'In extreme rage'
Speaking through an interpreter, the taxi driver said he picked up the passenger, a "young lad", from Hoxton and headed to Leyton. The passenger was carrying a phone in one hand.
He said he saw the passenger look over his shoulder and drop down in his seat during the journey, and was mostly talking on his phone.
In Leyton a man handed him a box, which he brought back to the car. The driver and Mr Duggan chatted "laughingly" before they headed for Tottenham.
Describing the shooting, he said: "It was such an incident that a person cannot forget about these things, even at night."
The taxi had stopped at traffic lights in Ferry Lane and as he moved "I noticed that vehicles were approaching at very high speed from the rear", he said.
He moved to give way but the vehicles "suddenly" stopped, two cars blocking him.
He said: "A dangerous accident could have taken place.
"Men got out of it very quickly who were carrying guns in their hands.
"Then I heard the sound of my rear door opening.
"I saw that Mark Duggan got out and ran. At the same time I heard firing from the front.
"I saw shots strike Mark Duggan. He fell to the ground."
He said he was also pulled out of the car by his arm "very angrily" and was forced to kneel down.
He said he saw Mr Duggan's body lying nearby on the ground.
"His mouth was open. He was bleeding from the front. They were trying to remove his clothes," he said.
'Angry, crazy, mad'
In a statement to the police after the incident, the driver had said of one of the officers: "He was in an extreme rage like a mad person.
"He was angry, crazy, mad."
When asked if he had seen Mr Duggan raise his arm and point at officers, he replied he had not.
Earlier a firearms officer, known only as R31, told the court that he jumped out of his unmarked police car to try to stop Mr Duggan escaping.
This was only "about a second" before another officer shot Mr Duggan, he said.
"Once the firearm was discharged, my Lord, I was quite stunned because I was actually only a few feet away from the barrel of the gun when it was discharged and obviously it was extremely loud if you're quite close to it, and it was quite painful," he said.
He said he moved a police car to create a barrier between the incident and a group of bystanders who he thought were filming the scene on their mobile phones.
Searching the area, he climbed over the railings and searched in some bushes where he saw a black object, he said.
"As I got closer it became quite obvious that it was something in the shape of a self-loading pistol that was in a sock".
It was "perhaps the length of a car" from where Mr Duggan had fallen.
R31 said he could not see whether Mr Duggan was holding anything in his hands and he was also unable to see which officer fired the shots, but he said he saw Mr Duggan's jacket "ballooning up at the back" as the bullets passed through him.
The trial continues.