Mark Duggan death: Kevin Hutchinson-Foster 'had gun'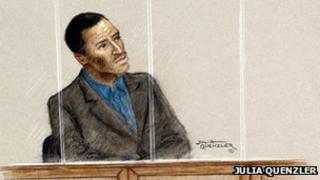 The man accused of supplying a gun to Mark Duggan had a firearm wrapped in a sock a week before the 29-year-old was fatally shot by police, jurors heard.
Kevin Hutchinson-Foster, 30, denies giving Mr Duggan an illegal handgun the day he was killed in Tottenham, north London, on 4 August last year.
He told Snaresbrook Crown Court he had borrowed a gun for a day following a row in Hackney, east London.
But he had returned the gun before he was accused of giving it to Mr Duggan.
He said he had been "pally" with Mr Duggan and they used to go partying together and played football.
Drugs deal
The defendant told the jury he had borrowed the gun to assault a barber in Hackney but had returned the weapon the same day.
But he refused to say who had given him the gun, saying he feared the consequences.
He also told the court he may have previously given a shoebox to someone else.
The prosecution say Mark Duggan was allegedly carrying a gun in a shoebox on the day he was shot.
Mr Hutchinson-Foster also told the court that in the weeks before Mr Duggan's death he had sought the defendant's help to set up a drugs deal.
The defendant said he had had a conversation with a friend called Mo and Mr Duggan in July.
He said: "They knew somebody who was cultivating cannabis and wanted to know if I knew anybody who was interested in buying it.
"I said if they got me a sample I would give it to my dealer to see if he was interested."
The police marksman who fired the fatal shots has previously told the trial he was "100% sure" that 29-year-old Mr Duggan had a gun on him which was wrapped in a black sock.
The officer said he had fired as he believed Mr Duggan was going to shoot.
Mr Duggan's death sparked riots in Tottenham, which turned into widespread disorder across many English cities and towns.
Mr Hutchinson-Foster denies selling or transferring a prohibited firearm to Mr Duggan between 28 July and 5 August 2011.
The trial continues.