Mark Duggan death: Kevin Hutchinson-Foster 'lied about gun'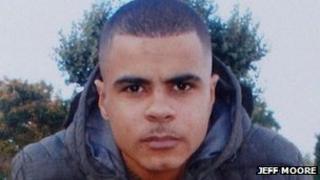 A man on trial for supplying a gun to Mark Duggan the day the 29-year-old was shot by police said he tried to "distance" himself from the shooting.
Kevin Hutchinson-Foster, 30, said he "lied" to police about handling the gun in the week before the shooting for fear of being thought of as a "snitch".
He denies giving Mr Duggan an illegal handgun on 4 August last year.
Snaresbrook Crown Court heard he had borrowed a gun for a day, but returned it a week before Mr Duggan was shot.
Mr Duggan's death sparked riots in Tottenham, which led to disorder in a number of English cities and towns.
Mr Hutchinson-Foster denies selling or transferring a prohibited firearm to Mr Duggan between 28 July and 5 August 2011.
Barber 'pistol-whipped'
Giving evidence, he said he lied to police when they asked him whether he had handled the gun in the week before Mr Duggan's death because he did not want anyone to think "I had something to do with Mark dying".
He had used the gun to pistol-whip a barber in a hair salon in Hackney on 29 July and the blood of both men was found on the weapon, the court heard.
He said he borrowed the gun "for show" in the confrontation with the barber, but returned it later that day.
Mr Hutchinson-Foster also said he lied when he told police Mr Duggan had been part of a group of men that beat him with a gun a week earlier.
Prosecutor Edward Brown QC, suggested this was an "invented attack" to account for the fact that his blood was found on the handgun which police found after Mr Duggan was shot.
The barrister said: "You have tried to fit your lies through the evidence as it developed."
To which Mr Hutchinson-Foster replied: "The event did happen."
He said he had been in touch with Mr Duggan for weeks over a drugs deal, several of which took place in the hours leading up to Mr Duggan's shooting by police.
'Agitated and angry'
The defendant said Mr Duggan wanted to come to Leyton to supply drugs, but in a later phone call on the way to Leyton, the defendant told the court Mr Duggan wanted him to accompany him to Tottenham to collect the drugs.
But Mr Hutchinson-Foster said he could not because he had to take another girlfriend to a dance audition, and Mr Duggan went alone.
Mr Hutchinson-Foster said after Mr Duggan was shot he received a phone call from a mutual friend, Mo, who was also involved in the drug deal.
The defendant said: "He was very agitated and angry at me and basically said I snitched up Mark."
As news of the shooting spread, he said he received a number of calls accusing him of being a snitch and he switched phones the day after the shooting.
He said he had lied to police in an effort to "distance" himself from any association with events that led to the shooting of Mr Duggan.
The prosecution also alleges the defendant handed Mr Duggan the gun in a shoebox, 12 to 15 minutes before he was shot and that the box bore the fingerprints of Mr Duggan, Mr Hutchinson-Foster and his girlfriend Desire Cox.
Asking him about the shoebox, Mr Brand said: "So was it just a coincidence that a person fitting your description hands over a box ending up with your fingerprints on it, with Desire Cox's fingerprints on it and Mark Duggan's?"
To which Mr Hutchinson-Foster replied "Yes".
The trial continues.