Harrow and Wealdstone rail crash: Boy rescuer remembers devastation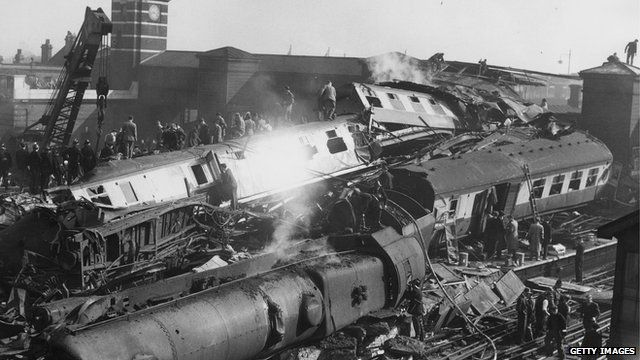 Sixty years on from one of the UK's worst train disasters, survivors, eyewitnesses and rescuers have gathered at a north-west London station to remember the victims.
Fourteen-year-old Gilbert Powell had just boarded a bus for Willesden Technical College on a foggy morning in 1952 when he heard "a great big smash" as three trains collided in the space of a few minutes at Harrow and Wealdstone station.
The scout jumped out of the bus and rushed to platform six and came face to face with "a massive pile" of train carriages, one of which had brought down part of a footbridge.
On 8 October 1952 the Tring to Euston train, which was running late, was on platform six when the Perth to Euston express train, which had been delayed by fog, crashed into the back of it at 08:19 BST.
The impact of the crash hurled debris on to neighbouring tracks, giving the Euston to Liverpool and Manchester train no time to stop before it crashed into the wreckage. The train was catapulted into the air and ploughed into the footbridge.
In total, 112 people died and more than 300 were injured in what is the most catastrophic railway accident in England and the second worst in the UK, after Quintinshill in Scotland, where 200 people were killed in 1915.
Sixty years on, Mr Powell, now 74, says his memory is foggy following a stroke in 2008, but some images are hard to forget.
"There was a woman scalped," he said.
"I can see it now, she was on top of the mound of crash debris and she was lying on top of a bit of railway line or carriage that was thrown up."
His small build was an asset on the day as he wriggled into mangled compartments trying to locate survivors.
"People from the fire brigade couldn't get under the railway carriage because it was a massive great pile and they allowed me down underneath to see if anybody was alive down under there.
"I shouted out to them 'there is one there, there are two there' and they came and removed the rubble," he said.
The teenager is thought to have been the youngest person to help in the rescue effort, staying there for four hours.
But his actions, which were later applauded by newspapers, went unnoticed when the boy - covered in dust and dirt from the crash site - ran to his father's office nearby and was told off before he could explain his appearance.
"Father told me go home and get washed up because I was dusty and [to] go to school, so I went home and there was another telling off from my mother," he said.
"I got dressed up and went off to school and found out that I had been put in detention for not coming in that morning."
It was only when Bernard Archer, now 85, a local resident and scout leader who worked at the Harrow Observer, visited Mr Powell's family that his parents heard about their son's heroic actions.
Mr Archer said: "Gilbert had a knack of getting into trouble."
Laughing, Mr Powell recalled: "My father said to me 'Don't get too big-headed over this'."
It was Mr Archer, then aged 25, who identified the youngster from pictures after getting calls from reporters.
Mr Archer said: "It struck me that everybody in the area had come to see what they could do to help.
"As trains went past at night while they were still working they sounded their whistles very quietly... it sounded as if these steam engines were crying in sympathy with the people that had died."
A group of US Air Force medical personnel was on one of the trains and helped in the aftermath before their colleagues from South Ruislip arrived.
Lt Abbie Sweetwine, dubbed "Angel of Platform Six", used a tube of lipstick to mark 'X' on the forehead of those who had been treated and 'M' for people who were given morphine, to prevent an overdose.
The nurse was among those remembered at the service as the names of the victims were read out before a minute's silence.
Among those present at the ceremony was Keith Cheyney, 78, from Watford, who had been on the Tring to Euston train. He said the accident made him realise how "precarious" life was.
Mr Cheyney, then 18, and a friend got on a front coach because the carriages at the back were packed. They were uninjured.
"There was a terrific bang at the back of the train just after the train was ready to leave," he said.
"We walked down the platform there was smoke and steam everywhere and you couldn't see what was going on.
"There was nothing we could do, (emergency) services were arriving and there were people coming out of the station and just collapsing on the street and people were helping them".
Councillor Keith Ferry, who represents Wealdstone ward on Harrow Council, said: "It is only right that we honour those who lost their lives, and those remarkable people who showed extraordinary courage to help and offer assistance in the aftermath."
The inquiry into the accident found that the driver of the Perth to Euston train had missed the danger signal ahead of the crash.
Peter Scott, a local rail historian, describes it as "an unfortunate sequence of events" which began when autumn fog delayed several trains and the driver of the Perth train, "trying to make up for the lost time", lost his concentration for a moment.
He said: "The signalling procedures had been tightened up since the 1915 crash in Quintinshill but at the time of the Harrow accident there was still no automatic warning system.
"The accident made the government introduce the system a lot quicker in stages from the 1950s."
Related Internet Links
The BBC is not responsible for the content of external sites.