Lt-Gen Kuldeep Singh Brar attack: Three arrested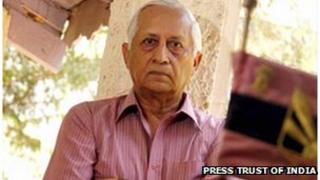 Three people have been arrested in connection with the stabbing of an Indian general who was visiting London.
Lt-Gen Kuldeep Singh Brar, 78, was attacked by four men in Old Quebec Street, near Oxford Street, on Sunday night.
The Metropolitan Police said its officers had arrested two men and one woman in the West Midlands on suspicion of conspiracy to murder.
They are currently being questioned at a police station in central London.
The force spokesman said a 33-year-old man and a 40-year-old woman were arrested at a residential address in Wolverhampton at about 17:00 BST.
'Long beards'
Another man in his 30s was arrested after being stopped in a car in West Bromwich about 30 minutes later.
Mr Brar was taken to hospital with a neck wound after the attack and has since been discharged.
He led the 1984 raid on Sikhism's holiest shrine, which saw hundreds die when troops flushed Sikh separatist militants out of the Golden Temple in Amritsar in Punjab state.
He is thought still to be a target for extremist Sikhs, but the identity of his attackers is unclear.
The four men are described as being of Asian appearance, all with long beards, and were wearing dark clothing and long black jackets.
One is described as younger and slimmer than the other three.
They all fled in the direction of Oxford Street.
Police are appealing for information, and particularly want to speak to people who helped Mr Brar and his wife, who was uninjured, following the attack.