Petition against north-west London A&E closure plans handed in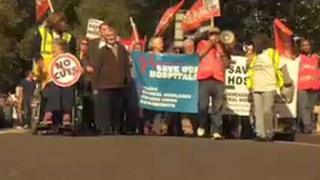 A 50,000-signature petition against plans to close four of the nine accident and emergency (A&E) departments in north-west London has been handed to the NHS.
Campaigners fear Charing Cross, Central Middlesex, Hammersmith and Ealing hospitals will lose their A&E units.
NHS bosses said fewer, more specialist centres would save money and lead to better care.
The three-month consultation ends at midnight.
The petition was handed in by campaigners at NHS headquarters in Marylebone, central London, earlier.
"Shaping a Healthier Future" was launched at the end of last year, with NHS North West London saying it needed to save about £1bn over the next three years, as well as improve standards.
Doing nothing would leave a £330m black hole, it added.
'Shocked and horrified'
About 400 people took part in a march on Saturday in protest at the possible closure of A&E at Charing Cross Hospital in Hammersmith.
They said their main worry was how difficult it would be to get to other hospitals in an emergency.
Campaigner Josephine Lundberg said she had probably been to the unit about three or four times in the last year.
"I am absolutely shocked and horrified and I'll fight till the end to save it," she said.
Geoff Martin, from the pressure group London Health Emergency, said that patient safety was at risk.
He said Ealing Hospital provided front line health care for a growing population in west London.
"You take that out of the equation, people are going to have to travel miles through the busy streets of west London to get emergency care and those extra minutes on the journey in some cases will mean the difference between life or death," he said.
NHS North West London said it welcomed feedback.