London's new housing loses the 'dirty word'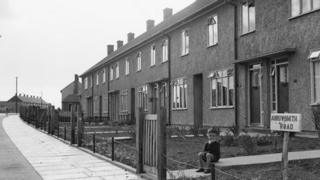 East London's Olympic Park will feature five new areas with up to 8,000 new homes with schools, playgrounds and health centres, according to plans.
Had they opened 40 years ago they may well have been called "estates", but they are being called "neighbourhoods".
Meanwhile, as social housing developments across London are being demolished and re-built the word "estate" is also being air-brushed from use.
Why is it happening and how much will new names change the reality of life in London?
'Pejorative association'
The Olympic Park's neighbourhoods will include East Wick, Sweetwater and Marshgate Wharf.
In North Kensington, Wornington Green Estate is out; Portobello Square is in.
In Southwark, Aylesbury Estate is out; Wallington Parade, Roffo, Arments Place and The Totters are on the shortlist to replace it.
Professor Loretta Lees from King's College London's geography department says, "The word 'estate' has become synonymous with the term 'ghetto'.
"It's become a dirty word.
"Back in the '20s and '30s it didn't carry the same stigma."
Dr Richard Dance, senior lecturer in Old English at Cambridge University, says people now associate it with council estates, but that when he was growing up any housing development might be called an estate.
The Oxford English Dictionary defines a housing estate as "a residential area in which the houses, streets, etc., have all been planned and built at the same time".
Estate comes from the Latin word 'status' and in its earliest English usage means a state or condition.
Dr Dance explains, "Words do fall foul of pejorative association. It's interesting that people have started associating it with social housing and social problems and don't want to use it.
"It's an arbitrary relationship but people have associations with words."
Wornington Green Estate is being demolished to make way for Portobello Square which will be a mix of private and social housing.
Arturo Tuncaydin, who grew up in the area, worked in lettings for a local estate agent.
He said using the word "estate" with clients could be the kiss of death.
"You would jeopardise the deal if you said 'estate'. You always said 'ex-local [authority]'."
In the UK, the majority of public housing estates were formed after World War II to clear slums.
But the trend is now for these large monolithic developments of mono-tenure properties to be broken up into smaller, less isolated units of social and private housing.
Jean Bartlett lives on Aylesbury Estate, one of the largest public housing estates in Europe.
In 1997 Tony Blair chose it to make his first major speech as prime minister outside Parliament, to speak of "no-hope areas" and "forgotten people".
In redeveloping, Ms Bartlett is convinced the names Aylesbury and Estate have to go.
"Without a doubt the name Aylesbury has to go. I'm hoping it won't look like an estate any more.
"If I'm asked where I live I say between Elephant and Castle and Camberwell Green Estate. If I'm pushed, I say Aylesbury."
But she adds, "Aylesbury may be an estate but we don't live in a tip and it's not full of gangsters."
'Creeping gentrification'
Charlotte Benstead ran a project with residents to rename the estate.
She says, "We started looking into it and nobody knows why it was called the Aylesbury.
"Perhaps it was the idea of a little bit of the countryside brought into London.
"We had the opportunity to redefine it. We want the estate to be seamless. It will be part of the Walworth landscape."
Asked why the word 'estate' will be dropped, she said: "Because it won't be council-run."
Professor Lees believes withdrawing the word from use is part of the "creeping gentrification" that is forcing the poorest out of central London.
She explained "naming as norming" as a way of removing previous stigma and normalising something.
"It's about marketing, the complete gentrification of terms.
"The stigma is that there is a bunch of uneducated people, socially and economically outside the middle class norms of aspiration.
"The mixed use development is about bringing them into the middle class as if they will suddenly have the same cultural and employment aspirations.
"The issue for London is that 40 years from now it will be an upper middle class/upper class city with the poorest displaced to the suburbs."