Ashraf Rossli London riots attack: Beau Isagba appeal fails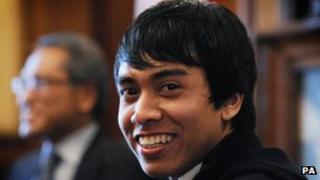 A man who attacked a Malaysian student during the London riots has had his appeal against his sentence turned down by the Court of Appeal.
Beau Isagba was convicted of causing and inflicting grievous bodily harm for punching Ashraf Rossli on 8 August 2011, breaking his jaw in two places.
Isagba, 18, who admitted stealing the 20-year-old's bicycle in Barking, east London, was sentenced to seven years.
Appeal judges ruled that seven years was not "manifestly excessive".
Mr Rossli, an accountancy student, had been in the UK for a month when he got caught up in the riots.
The trial heard he was on his way to a friend's house when his bicycle was stolen and he was punched in the mouth - offences for which Isagba, of Icknield Drive, Ilford, was convicted.
Following the attack the student was mugged by two people who appeared at first to help him as blood poured from his mouth.
Lord Justice Moses, Mr Justice Wilkie and Mr Justice Lindblom dismissed Isagba's appeal.
Lord Justice Moses said the incident was a "targeted" and "terrible" attack on a "vulnerable individual".
Isagba had also admitted violent disorder and two counts of burglary, but no separate penalty was imposed on him for those offences.