Occupy London protesters gather at St Paul's Cathedral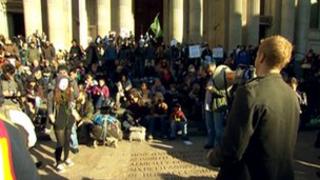 Protesters from the group Occupy have gathered outside St Paul's Cathedral and City Hall to mark one year since they first set up camp in London's financial district.
The group - part of a worldwide movement against corporate greed - set up outside the cathedral on 15 October last year to "initiate global change".
They were evicted after four months.
The Met Police said between 200 and 250 people took part in Saturday's action.
'Gambling debts'
A spokesman said both gatherings - outside St Paul's Cathedral and City Hall, the headquarters of the Mayor of London - passed peacefully.
Occupy protester Tom Moriarty said: "We are celebrating 12 months of Occupy.
"Twelve months ago, we outlined some of the problematic things in the economy and we've tried to build awareness and publish educational material so people understand what's happening to them."
He said the group was seeking to highlight the injustice of the banking sector and its "gambling debts" and to question the success of the capitalist system.
Mr Moriarty said he was unable to say whether the group planned to stage another sit-in.
Police and bailiffs removed protesters and their tents on 28 February after the High Court ruled the City of London Corporation's move to evict them was "lawful and justified".