Curry scholarships are launched by a university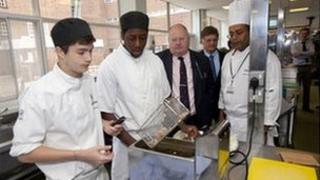 A London university will offer scholarships to attract people who want to become curry chefs.
It is the first time scholarships have been offered focusing exclusively on the curry industry.
It is an attempt to plug the gap left in the industry by tougher immigration rules, meaning some restaurants cannot recruit from abroad.
The four scholarships, which also have the backing of the government, are at the University of West London.
They are worth £3,750, which covers half the course's fees.
'Fill the masses'
The students will also be given placements at high-end South Asian restaurants and mentored by some of the most talented chefs in the sector, such as Cyrus Todiwala.
He said: "I think it's a great initiative, I also think it's 20 years late.
"It should've been kicked off and been well and truly established many years ago, so I'm very happy that there's a little bit of muscle being put behind it now."
Secretary of State for Communities and Local Government, Eric Pickles, who was at the university to launch the scheme, said: "This is about the esteem of the industry, this is highly symbolic [it is] about British Asians investing time and money to provide the very best in the catering industry and I think people underestimate the importance that this sector of the catering industry is to the British economy generally.
"I am really enthusiastic about it. I think Asian cuisine is changing.
"We started as a means to fill the masses if you like, something that was nutritious and very cheap and I think we're moving now into a world where Indian cuisine quite rightly is seen as subtle, clever and desirable for fine dining.
"If the prime minister's first choice to celebrate his birthday is with a curry, then there's a kind of indication of how the nation's changed."
The scholarships are the latest government-backed initiative to attract British talent into the curry industry.
Highly-motivated
Last month the BBC found that a similar scheme to encourage home-grown Asian food chefs managed to attract just 16 people out of a possible 70 places.
The Hospitality Guild, set up with £1.75m in funding from the Department for Business, Innovation and Skills, developed five "centres of excellence" across England, offering training to young unemployed people in Asian cookery.
But Professor David Foskett, head of the University of West London's School of Hospitality and Tourism, said this initiative is different because it is targeting students who are already studying on a catering course and have got a genuine passion for South Asian cuisine.
He added: "We are attracting people post A-level and we are focusing on the business of Asian hospitality.
"We've got a track record of our students that they don't drop out and they go on to very successful careers and this is quite a different approach from taking people from the Job Centre Plus [who are] unemployed.
"These are people who are highly-motivated and we know from our past that this will be a success."
Two people have already secured scholarships on to the BSc Culinary Arts International course with two more places available to apply for through the university.