London project gives immigrants lessons in being British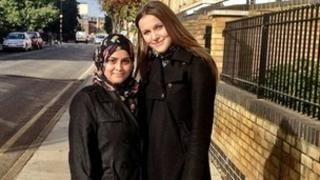 Standing in the queue at a coffee shop in Mile End in East London, Mazeda Chowdhury looks somewhat apprehensive about the upcoming order.
Until a few months ago the 21-year-old from Bangladesh had never ordered herself a drink, her husband would always do it for her.
"I'll have an Earl Grey," said mentor Victoria Briggs, 30, and after a confused look from Mrs Chowdhury there are giggles between the pair as Victoria says actually a tea with milk will do fine.
Mrs Chowdhury arrived in the UK from the small city of Sylhet in north-east Bangladesh last year. Her English is faltering but constantly improving after two months of mentoring with Victoria.
The pair are part of an east London project that links newly arrived immigrant women with British mentors to help them adapt to life here.
Volunteers work on a one-to-one basis with the women who hail largely from Bangladesh, Somalia and China.
Vix Garner is mentoring co-ordinator at The Arbour, the organisation running the scheme.
'Very isolating experience'
She said learning English is key, but the project is also simply about learning how to get by in the UK.
"The mentors are there primarily to assist their mentee in helping them with the English language, but they're also there to help them access local services; registering with their GP, enrolling at the local library, helping them find their way on public transport."
The majority of the women that the project helps are coming to the UK on spousal visas. Tougher new immigration rules mean spouses coming to settle in the UK now have to pass an English test.
Ms Garner said she is noticing that the women are starting to arrive with a higher language standard but that there is still need to make sure the women coming are not totally reliant on their husband's family.
"It can be a very isolating experience, but with a mentor they have someone outside the family to confide in," she says.
For Mrs Chowdhury it has meant a vast difference in her levels of independence - previously she would stay at home most of the week watching television and waiting for the weekend to go out with her new husband.
Now, she is not only helping herself but her extended family that have not had the advantage of these lessons.
She said: "They depend on me all the time because they don't know English and my husband works so if they need to go to the doctor or the hospital, or even if someone just knocks at the door, I can help them."
For Mrs Chowdhury London's transport system presented a real challenge.
"In Sylhet we mostly use rickshaws and there are trains.
"Here it's not just trains but there is the Underground, the Overground, the buses, the DLR, so much," she said.
The mentoring lasts around six months but can be extended if it is felt the new migrant needs extra support.
Managers at The Arbour said there is a long list of women waiting for a mentor.
Ms Garner said all they require is that volunteers speak fluent English and can help the women feel part of the UK.
"I think they get a sense of what it means to be British (from the project) - and in fact just how multicultural Britain is."
Mentor Victoria Briggs is in fact not originally from the UK, but moved from Moldova to join her husband 10 years ago. For her, it makes her all the stronger in her new role.
"I knew no one other than my husband, his friends and family.
"So in many ways I understand some of the struggles Mazeda is going through," she added.
You can hear more on this story on Asian Network Reports at 13:00 BST and 17:00 BST or you can listen back on the BBC iPlayer.