Petition to save Victoria Endangered Species sculpture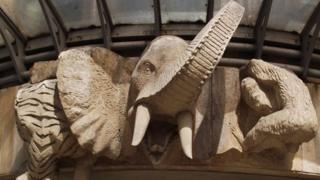 A historian has set up a petition to save an animal sculpture which is at risk of being destroyed to make way for a London property development.
The Endangered Species Triptych, sculpted by Barry Baldwin, depicts an elephant, tiger and orangutan.
The sculpture has sat above the entrance to Allington House, Victoria, central London, since the 1980s.
Property developers Land Securities said new artwork would be "part of a new wider scheme replacing this".
London historian, blogger and tour guide Peter Berthoud started the petition to try to save the artwork, which will be taken down as part of plans to build offices, shops and apartments called Victoria Circle.
The petition has so far attracted more than 550 signatures.
'Tricky issue'
Mr Berthoud said: "Both the artist and I contacted Land Securities back in July to find out what plans there were to save the sculptures.
"Barry is now based in California so I went along, on his behalf, to a meeting with Land Securities to discuss whether the sculptures could be saved.
"I was told that a specialist contractor was being appointed with a view to salvaging the works."
But Mr Berthoud said last week he and Mr Baldwin had received an email saying the Triptych could not be saved.
He has since made an emergency application to English Heritage to list the sculptures.
In a statement, Land Securities said: "Art as part of a building is always a tricky issue when it is time for the building to be redeveloped as there is a cost and no guarantee that the piece can be successfully salvaged."
Mr Berthoud said: "I find it very difficult to believe that an organisation with the immense resources of Land Securities couldn't afford the salvage, given that this is possible and that process would be all the easier if the sculptor was fully involved."
Donal McCabe, a representative from Land Securities, said: "We have a long history of art in the community and we have spent and are spending over £2.5m on art in our current regeneration of Victoria.
"This particular piece of artwork was commissioned by Land Securities as an integral part of Allington House on construction.
"The building is now due for demolition but new artwork will be part of the new wider scheme that replaces it."