Mark Duggan's family 'outraged' over shooting publicity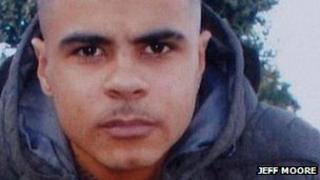 Mark Duggan's family felt "a deep sense of injustice" when details of his shooting by police were revealed during a criminal trial, a court has heard.
Michael Mansfield QC said the inquest into Mr Duggan's death in Tottenham, north London, was put at risk by the trial of Kevin Hutchinson-Foster.
Mr Hutchinson-Foster was accused of supplying a gun to Mr Duggan, 29, on 4 August 2011 but the trial became "synonymous" with Mr Duggan's name.
His death sparked last summer's riot.
An eight-week inquest into Mr Duggan's death is expected to begin on 28 January.
Inquest delayed
During a pre-inquest review hearing Mr Mansfield, who represents the family, told coroner Andrew Walker at North London Coroner's Court that the inquest was delayed to protect the trial but "no-one lifted a finger to protect these proceedings".
Mr Hutchinson-Foster, 30, was accused of giving a gun to Mr Duggan 15 minutes before he was shot dead by police in Tottenham. The jury failed to reach a verdict in the trial heard at Snaresbrook Crown Court.
Mr Mansfield said: "There is a deep sense of injustice felt by all family members relating to Mark Duggan by the untrammelled exercise of the holding of a trial in public which canvassed the very issues which relate to the core of this inquest, namely the circumstances of Mark Duggan's death.
"This inquest was delayed in order to protect that trial; 15 months have gone by.
"When the trial came it was singularly apparent that no one lifted a finger to protect these proceedings - least of all the prosecutorial authorities and the investigatory authority of the IPCC (Independent Police Complaints Commission)."
The barrister argued that reporting restrictions should have been in place during the trial.
He said: "The trial in some quarters of the media wasn't called the Hutchinson-Foster trial, it was called the Mark Duggan trial, that was how synonymous the two had become.
"That's why the family are outraged. They have exercised remarkable patience and endurance and resistance to the kind of action that some might in these kind of circumstances take."
'Feeling confident'
Speaking outside court Mr Duggan's brother, Shaun Hall, said: "It's the first time that we have left here with a bit of hope that we can get the truth.
"The farce that has gone on with a certain person that had a trial that turned into the Mark Duggan trial, we can now put that aside.
"We can find out exactly what happened without people trying to jeopardise what we need to hear.
"We are told that in January we are going to get our day in court.
"The coroner was not prepared to lie down, he does want to see this in front of a jury as we do. All we are looking for is the truth."
Mr Duggan's aunt, Carole Duggan said she was relieved there is going to be an inquest for January.
"It's a sad occasion but we are feeling confident for January," she said.
Referring to Mr Hutchinson-Foster's trial, she said: "There has been a lot of negative publicity about Mark and it wasn't Mark's case at all. By January hopefully the public will get what we get - the truth."
Another pre-inquest review hearing will take place in December.