British Museum cleaners go on strike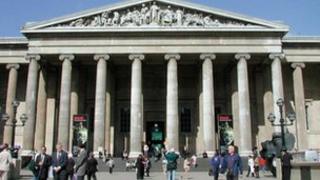 Cleaners and maintenance workers at the British Museum have been on strike in a row over the privatisation of their work.
Unions said staff at the central London museum feared their pay and conditions could be seriously cut if maintenance work is contracted out.
The museum said it was consulting with staff.
The strike ended 10:00 GMT. There are plans for more action on Monday next week.
The Public and Commercial Services (PCS) union and Unite represent about 50 of the museum's cleaning and facilities management staff.
'Undermining services'
They believe senior managers are close to confirming that outsourcing will go ahead, with the new contract starting in April.
Unite regional officer Carolyn Simpson said: "Without our members carrying out the cleaning and servicing of the buildings and exhibits, the British Museum's standing as a world-class heritage site is in danger of becoming second class.
"We will not allow these jobs be outsourced without a fight."
PCS general secretary Mark Serwotka added: "Introducing the profit motive is not only unnecessary, it risks undermining these important services to the public."
A museum spokesperson said that cleaning services could be provided more simply and efficiently by the appointment of one contractor.