Paul Burstow MP says hospital plans 'lack credible leadership'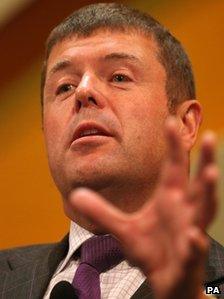 A former health minister has said many of the plans for reorganising hospitals in London lack credible leadership.
Paul Burstow, MP for Sutton and Cheam, is opposing proposals to close accident and emergency and maternity units at St Helier Hospital in south-west London.
The Lib Dem MP said a lack of credible leadership was the "fatal flaw" in similar schemes across the capital.
NHS bosses have said fewer, more specialist centres would save money and lead to better care.
In north-west London, plans to close four of the nine accident and emergency (A&E) departments in the area have been put forward.
The A&E units at Charing Cross, Central Middlesex, Hammersmith and Ealing hospitals have been earmarked for closure.
Under the plans new "super" units will be set up at other hospitals in the area, with more consultants and bigger teams working in shifts 24 hours a day.
Mr Burstow told Sunday Politics London that he had doubts the plans would work across London.
He said: "The thing I think is the fatal flaw in so many of these so-called reconfigurations of healthcare is that they lack credible leadership and they don't offer a compelling vision of what the future of healthcare could be like.
"And on the basis of the evidence and the independent examination of the local proposals in my patch, they don't add up.
"And across London, the issue is about the quality of the leadership, getting alongside local community leaders and getting them to see the case for change and making that case in a compelling way."
Mark Spencer, medical director of NHS North West London, said: "We want to invest to make five hospitals bigger and better.
"The services we have all over the capital, but particularly north-west London, are very variable.
"Some of the A&Es we are describing have no paediatrics, no general surgery, no orthopedics behind the front door.
"People somehow assume that their local hospital has everything, and that's not the case."
Related Internet Links
The BBC is not responsible for the content of external sites.