Fraudster Maria Michaela jailed for £13m con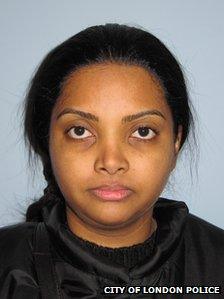 One of the UK's "most prolific female fraudsters" has been jailed for nine years for conning banks out of £13m.
Posing as a South African heiress, Maria Michaela, 31, secured eight loans for properties, City of London Police said.
With an accomplice she submitted over-estimated prices for houses and then defaulted on the mortgages.
She was jailed at Harrow Crown Court after previously pleading guilty to fraud and conspiracy to defraud.
Det Insp Andy Fyfe said: "Maria Michaela created a web of deception that duped banks into handing over vast sums of money and then perpetuated her crimes by assuming a new alias to try and secure more loans.
"False identities and a corrupt property surveyor were the tools she used to make millions, turning herself into one of the, if not the, most prolific female fraudster the UK has ever seen."
Between August 2007 and April 2008 Michaela, from Deptford, east London, persuaded HBOS to give her four separate loans worth £10.5m to buy eight properties in the London area, police said.
To support Michaela's application the banks were handed false valuations by a property surveyor, policeman's wife Mary-Jane Rathie, who overvalued a string of exclusive London properties in return for "gifts" of more than £1m.
False valuations included a riverside property in Cheyne Walk, Chelsea; a flat in Cadogan Gardens, Belgravia, near Sloane Square; and another at Chester Mews, at the back of Buckingham Palace.
A fourth property was in Docklands, east London, and a fifth in Pimlico.
Rathie, of Waltham Cross, Hertfordshire, was jailed for six years at the Old Bailey in July 2011 for five counts of fraud between May 2007 and June 2009 and a further charge of concealing criminal property.
Her then husband, David Rathie, whom she divorced after their arrest, was a Metropolitan Police officer with the central London traffic unit.
He was charged with concealing criminal property but was cleared by an Old Bailey jury in June 2011.
Police said around the same time as the HBOS applications, the Royal Bank of Scotland was approached by a "Joanne Pier", really Michaela, who wanted to refinance assets from her family trust and into her own name due to problems with her father.
The bank agreed to make a series of loans to her totalling £2.5m.
As with HBOS, the loans were defaulted and much of the money advanced was lost.
Michaela changed her alias from Joanne Pier to Zoe Fletcher, police said, and in late 2008 she approached RBS for a second time in an attempt to fraudulently refinance properties.
But she met an employee who recognised her as Joanne Pier and an internal investigation was started.
But Michaela had disappeared by then and an appeal was made on the BBC's Crimewatch programme.
She was arrested in January by officers who traced her to a mortgage broker in Blackheath where she had been working.
Police said a search of her flat uncovered a number of different disguises.
Related Internet Links
The BBC is not responsible for the content of external sites.