Amnesty International's existence 'under threat'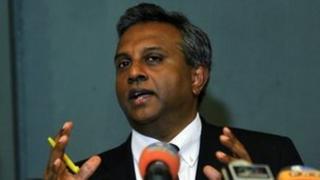 Unite union members at Amnesty International's London office have called on their leaders to stand down.
They say they believe leaders at the London headquarters have "lost sight" and "the organisation faces a threat to its very existence".
The statement follows a vote of no confidence held on Tuesday lunchtime.
The human rights organisation responded that the statement by the union was "not a fair or accurate representation".
The union members said they no longer believe the Secretary General Salil Shetty and his senior leadership team could continue leading the organisation.
'Not fair'
Amnesty said: "This statement by the union is not a fair or accurate representation of what has been a highly consultative and inclusive process of change."
It has also emerged that a senior director has written a damning letter of resignation over the way staff are being treated at the institution.
In the document to her staff - seen by the BBC - Susan Lee, Amnesty's Americas programme director, said she was "shocked and saddened by senior management's failure to treat staff fairly and with respect".
Amnesty said it "very much regrets the decision of Susan Lee to resign".
The motion of no confidence and the resignation of Ms Lee are the latest chapters in an increasingly bitter dispute at the 51-year-old charity.
Amnesty International is currently undergoing a major restructure which will see fewer London based workers in favour of a regional hub based system.
The text of the no-confidence motion states: "The organisation's ability to conduct research and campaigning in defence of human rights has been undermined, and the organisation faces a threat to its very existence."
A series of strikes has already been held by both UK Amnesty staff and members of its International HQ in London.
Union members said they were not only concerned that the changes would undermine the organisation's campaigning, but said leaders had also broken promises over redundancy.
'Shocked and saddened'
Concerns over Amnesty's future were also raised by Ms Lee in her letter telling her team of her intention to quit.
In the letter seen by the BBC, the Americas programme director wrote: "I have... lost confidence in senior management's ability to manage such a radical change process in a way that would ensure we emerge stronger and better able to fight for human rights in the Americas or, indeed, even to understand and mitigate the very obvious risks to the organisation's ability to function as well as it has until now.
"I was shocked and saddened by senior management's failure to treat staff fairly and with respect, which has been in doubt since the beginning of this process but was confirmed to me beyond doubt.
She went on: "To continue as part of IS (International Secretariat) management in these circumstances would put me in the invidious position of having to implement decisions and share a management approach to staff relations with which I fundamentally disagree, as well as having to meet expectations and commitments to deliver on human rights work without the means to do so."
Amnesty International said: "The leadership of Amnesty International very much regrets that staff at the international secretariat have issued a vote of no confidence in the secretary general and the senior leadership team.
"Amnesty International is currently going through the largest change process in its more than 50-year history as we adapt to and reflect the changes in the world we operate in today.
"This reorganisation of the way we work is a complex undertaking and is causing understandable concern for the staff.
"The secretary general and senior leadership team continue to have the full support and trust of the international executive committee."
The organisation declined to address points raised in Ms Lee's resignation letter but in a further statement wrote she "is a highly respected manager who has served the organisation and the cause of human rights for many years".