MP stabbed during surgery sees most constituents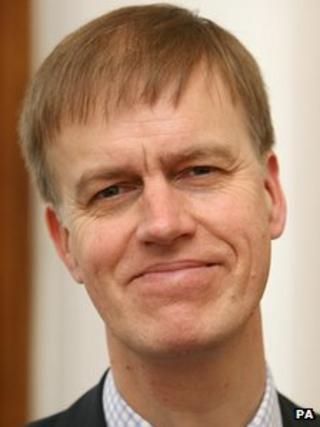 An MP who was stabbed while meeting a constituent held the most surgeries last year, a list compiled by the BBC reveals.
Research suggests on average London MPs held 48 surgeries last year lasting two-and-a-half hours each, seeing a total of 720 constituents.
Stephen Timms, Labour MP for East Ham, who was stabbed twice in the stomach in 2010, said he saw 2,300 constituents in 2011.
Of the 73 London MPs Sunday Politics contacted, 64 responded.
'Accessibility important'
The BBC found Mark Field, Conservative MP for Cities of London and Westminster, was the only London MP who did not hold a surgery in 2011.
Instead of meeting local people at his Conservative Association office, he said he asks them to make appointments to meet him at the House of Commons, which is in his constituency.
His office said it was "impossible to say" how many constituents he saw in 2011.
Mr Field said: "It would be wrong to suggest I'm sort of here in some sort of bunker in the middle of Portcullis House. Nothing could be further from the truth."
He said he was in a "unique situation" and that when he held surgeries in his first year as local MP 11 years ago he had "maybe one or two people coming a month".
He said he tries on a daily basis to engage with some of his constituents' more difficult cases.
For Mr Timms he had returned to holding meetings with his constituents to advise them on problems such as housing and immigration, less than a month after he was stabbed.
He admitted he was "slightly anxious" the first time.
Since he was attacked by Roshonara Choudhry, who claimed to be retaliating for him voting for the Iraq war, he has made sure he has other people with him at surgeries.
He said two assistants sit with constituents alongside him at surgeries but he personally "meets" each one.
But he believes the number of meetings he has with the public is a vital part of his life as an MP.
"It's for each MP to work out how they can best do their job.
"It [holding surgeries] is hard work but it's a very good way to get to know people and get to be known.
"It's important to be accessible to people," he said.
Sunday Politics is on BBC One at 11:00 GMT on Sunday.