North-west London A&E fight goes to Downing Street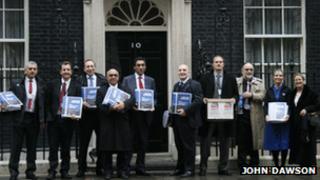 Campaigners fighting plans to close accident and emergency departments in north-west London have handed a petition in to Downing Street.
They fear A&E units at Charing Cross, Central Middlesex, Hammersmith and Ealing hospitals could shut under NHS plans to save money and improve care.
The petition urges the secretary of state for health to stop the closure of hospital services in west London.
NHS bosses have said more specialist centres will lead to better care.
Save Our Hospitals campaigners began staging a demonstration in Whitehall, directly opposite Downing Street at 11:30 GMT. A delegation of volunteers handed over the petition.
The chairman of the Save Hammersmith and Fulham Hospitals campaign, Carlo Nero, said it was about showing there was huge opposition to both the consultation process and the proposals.
Last month, a 50,000-signature petition was handed in by the group to the NHS headquarters in London following a three-month consultation.
The Shaping a Healthier Future programme was launched at the end of last year, with NHS North West London saying it needed to save about £1bn over the next three years, as well as improve standards.
Doing nothing would leave a £330m black hole, it said.
The final decision on the fate of the four A&E units in north-west London is likely to be made by Health Secretary Jeremy Hunt next year.