Wrong Abbey Road: Beatles fans confused by Tube map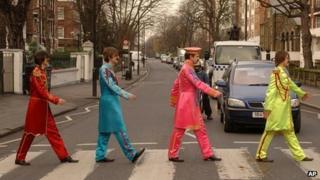 When international Beatles fans plan musical pilgrimages to the UK, day tripping to an industrial part of east London is probably not what they have in mind.
But that is where some of the Fab Four's followers have been buying a ticket to ride.
A small station surrounded by social housing estates, warehouses and a train depot - for many it is worlds apart from the tree-lined streets and a certain zebra crossing they were hoping to see.
The capital's only Abbey Road station, which opened on the Docklands Light Railway in West Ham last year, bears no relation to the studios made famous by the Beatles.
Mystery tour
It is in fact more than nine miles (14km) from the Grade II listed zebra crossing John, Paul, George and Ringo traversed for Ian Macmillan's iconic cover shot for the 1969 Abbey Road record.
One person who recently took a - not so magical - mystery tour to the new station was US tourist Christie Johnson.
It was not long before the penny dropped that she was in the wrong place.
"It didn't look right," said the 22-year-old semi-professional soccer player from Denver.
She and her rather flustered looking host - English student Melody Vettraino - had made a spontaneous decision to visit the iconic crossing.
Morag Haynes, who has lived in the area for more than 20 years, said these were not the first tourists she had spotted who had made the same mistake.
But visitors seem to be getting by with a little help from their London friends.
"A lot of American tourists saw it on the Tube map when visiting during the Olympics and stopped off," she said.
When she reveals to them they are at the wrong stop, "some laugh and some feel a bit silly" she added.
At the nearby Star Newsagents, Saninder Singh says his convenience store is graced by up to 10 Beatles fans a day.
"And they're just the ones that come into the newsagent," he said.
"They are confused but generally happy when I explain because I have solved their problem."
To help bamboozled Beatles fans, he suggested: "Perhaps they should put a sign up saying 'not the Beatles' Abbey Road'".
But in the meantime, he has no complaints about the extra revenue the tourists are bringing in.
"Some buy drinks and sweets," he said.
Transport for London spokesman Allan Ramsey said it was unfortunate that some tourists got confused but it would not be a problem if they just did their homework.
It is "a reminder that when visiting one of the world's largest and varied cities, nothing beats some in-depth research", he said.
Tourist Christie Johnson did not seem too upset to have visited the wrong Abbey Road, explaining that she was not a massive Beatles fan anyway.
She simply wanted a picture of herself on the famous crossing to show her friends, she said.
Now she will have a different tale to tell.
"I'll say we tried," she said. "It'll get a good laugh."
Penny Lane
Over in north-west London at the Beatles Store, which sells Fab Four merchandise, owner Howard Cohen said confusion over the studio's whereabouts was nothing new.
"I've had a number of people over the years who have said they've been to various Abbey Roads," he said.
The capital has at least 10 Abbey Roads, with potential tourist turmoil spots in the outer suburbs of Barking and Croydon.
But confusion appears to have been heightened by the new Abbey Road Station in a far-flung part of the capital.
"Maybe someone should open a little shop there," said Mr Cohen.
"'Where's Abbey Road?' is the number one question we get asked," he added.
In fact, he is asked that question so often, he has had handy maps printed which he gives to customers.
But disappointment among disorientated Beatles fans is not limited to Abbey Road.
"We get people who think Liverpool is at Liverpool Street," said Mr Cohen. "They expect to find John Lennon's house there."
"And then there are the people who ask how to get to Penny Lane and Strawberry Fields."
Surely they can work that out.