Mayor heads to India to attract foreign investment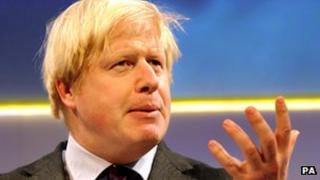 London should be the "number one choice" for overseas investors, Boris Johnson has said ahead of a trip to India to promote the capital.
London's mayor travels to Delhi on Saturday for a six-day trip to meet Indian business leaders for talks aimed at forging closer links.
Mr Johnson hopes to capitalise on the Olympic feel good factor.
He said he wanted to "exploit" the exposure to attract overseas investment.
Although the mayor does not have control over any central budgets or policies, sources close to him said the trip was designed to inspire "confidence" amongst prospective investors.
He also plans to hold a series of meetings during the trip to the cities of Delhi, Hyderabad and Mumbai.
He has previously criticised the government's stricter immigration controls which will limit the number of foreign students able to apply for visas to study in the UK.
The mayor wants to take advantage of London's Olympic legacy and will hand over petals from the Olympic cauldron to Indian sporting representatives.
'Number one choice'
He will also address the Confederation of Indian Industry, the Bombay Stock Exchange and the Indian School of Business.
He said: "This year has been an extraordinary year for London, with the very best of our city witnessed by billions across the world.
"I want to exploit that exposure to attract overseas investment into the capital, recognising that in an ever more competitive world, London cannot be complacent.
"Export markets are increasingly important to our future prosperity and when choosing where to locate and invest in Europe, I want London to be the number one choice.
"The staggering growth of India's economy and its rapid urbanisation presents a massive opportunity for this city. My message over the course of this trip is that London loves India."
Mr Johnson will be accompanied on the trip by a number of the UK's top business leaders, including Charlie Mayfield, chairman of John Lewis, and Gerry Grimstone, Standard Life's chairman.
He plans a number of other trips overseas in the next 18 months to promote London, including to the Gulf, China and Brazil.