King's Cross redevelopment progresses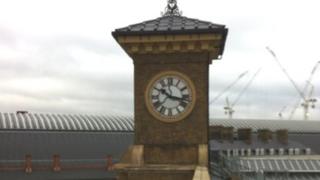 Behind a small door tucked away opposite platform six is the entrance to the famous King's Cross clock tower.
I was given a quick tour as the work progresses to redevelop the station.
I was trying to show that as well as a train company's dividend, fares are increasing to pay for this kind of investment.
The cost of the whole redevelopment - including the Western concourse - is £550m.
Some locally have questioned if that is value for money.
The clock tower gives a great view over the old front of King's Cross.
That is being knocked down to make way for a pedestrianised area.
It'll be open next summer.
The "temporary" structure from 1972 will finally be demolished on Christmas Day.
Meanwhile rail season ticket holders will face increases of on average 4.2% in the New Year.
Off-peak tickets will probably go up by more than that.
An announcement is expected soon.