BT Sport set to move to Olympic broadcast centre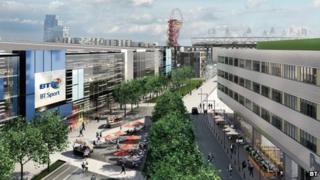 BT has chosen to make the Olympic Park broadcast centre in east London the home of its new sports channels.
BBC London correspondent Adrian Warner said the plan was for iCITY, established to transform the park's media centres, to move in.
It would then strike deals with other tenants such as BT Sport, he said.
The London mayor's office confirmed the deal, which is subject to approval by the London Legacy Development Corporation's board on Wednesday.
The telecoms giant has agreed terms for a 10-year lease to be the anchor tenant of the building, which is part of the iCITY enterprise complex for the digital and creative industries.
ICITY was established to transform the press and broadcast centres at the Olympic Park and hopes to create more than 6,500 jobs.
BT said it would refit part of the north end of the centre to house three TV studios, a control centre, 20 edit suites and an audience holding area.
BT Sport will show 38 Barclays Premier League live games a season for three years from August 2013.
It will also show 69 live rugby union games a season from the Aviva Premiership.
'Fantastic news'
Ian Livingston, chief executive of BT, said: "The Olympic Park will be an iconic sporting backdrop for BT Sport.
"We want to create jobs in the area and to explore sporting links with local schools as well as looking at how we can offer our production facilities to other companies."
Gavin Poole, CEO of iCITY, said: "This is fantastic news for the local community.
"BT Sport's decision demonstrates the momentum behind iCITY and the progress we are making in fulfilling our commitment to deliver jobs, support enterprise and boost economic growth.
"We very much hope that the London Legacy Development Corporation Board approves this at their upcoming meeting."
London mayor Boris Johnson said he would "look forward" to discussing the proposal at the meeting and suggested the deal could create "hundreds of new jobs".
Building work is set to start on 1 February and BT Sport is due to be launched in the summer of 2013.