Doreen Lawrence gets honorary doctorate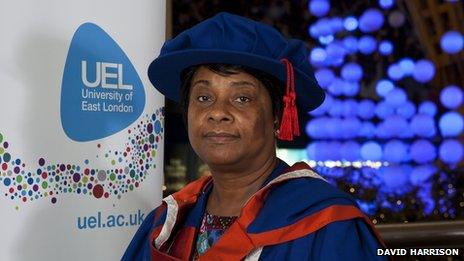 Doreen Lawrence, the mother of the murdered teenager Stephen Lawrence, has received an honorary doctorate from the University of East London.
Her 18-year-old son was killed by white youths in a racist attack in Eltham, south-east London, in 1993.
The university said it had awarded Mrs Lawrence the doctorate in education to recognise her campaign to bring his killers to justice.
It also recognised her work to help young people in education and careers.
Stephen, who planned to study architecture at university, was attacked and stabbed as he waited at a bus stop on 22 April 1993.
The Stephen Lawrence Charitable Trust was founded in 1998 by Mrs Lawrence and her former husband Neville, who also has an honorary doctorate of education from the university.
The university said its students had directly benefited from the trust's bursaries and from the use of the Stephen Lawrence Centre in Deptford, which provides training courses in areas such as IT and the creative arts.
Mrs Lawrence said it was pleasure and an honour to receive the doctorate.
She said: "This is recognition of all the work our trust has done in helping young people achieve their dreams and ambitions.
"We have already supported over 100 students - eight of whom who have gone on to successful careers in architecture.
"However, we want to look at how we can support people in other professions, such as journalism and law."
Related Internet Links
The BBC is not responsible for the content of external sites.